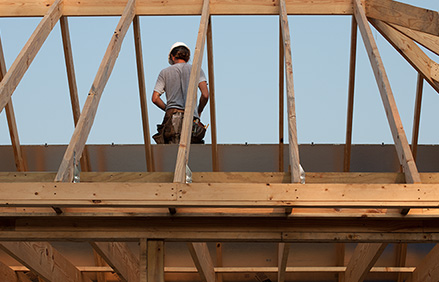 When the builder came to us with complaints of telegraphing through his roof shingles they assumed it was edge swell and the fault lay with the roof sheathing. Most often, swollen edges and buckling panels are caused by common installation mistakes.
The problem
When we inspected the roof sheathing panels in the attic, we noticed gaps between the roof sheathing and the framing. In some places, the gaps were big enough to slip a metal feeder between the OSB panel and the framing.
One panel was raised and the homeowner believed that it was decayed as the deflection was severe when stepped on. When we removed the panel in question it was discovered that a ceiling joist was sticking up above the surface of the rafter and the panel had been installed right over the joist causing a bump in the roof, and the sheathing panel had been attached around this protrusion.
We solved the problem by trimming the corner and attaching a new panel.
In addition to the other issues, many of the panel edges were not aligned with the roof framing. The framer tried to overcome the fact he had not spaced the panels properly by simply nailing a supplemental board to the framing, but many of these supplemental boards were not even with the top of the rafter and that meant the panels were not flush. This caused telegraphing through the roof shingles.
According to the APA Technical Note D481: "Close attention should be paid to proper nail size and spacing and, of course, to assure that fasteners do not miss the supports. Fasteners should be 3/8 inch from panel ends and edges."
Any mistakes present in the framing will telegraph through the shingles. Before installing the shingles, inspect the framing to ensure that panels are level and aligned. This will prevent expensive call-backs like this one.