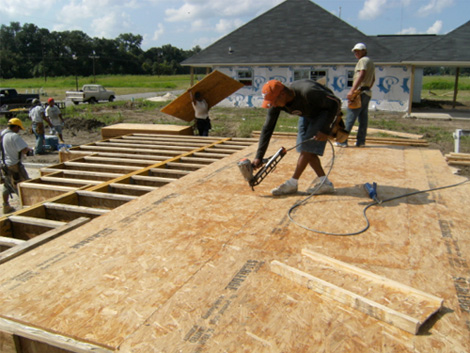 No matter what the weather throws at you, Stabledge® holds the line on edge swell. Stabledge is a premium engineered wood product ideally suited to sub-floor applications. Since its introduction, tens of thousands of homes have been built using Stabledge and it continues to be the panel of choice for builders who want to build faster, reduce costs and increase profits.
Features and Benefits
The T&G profile allows for fast and easy installation. Sheets lay flat and stay flat, without buckling or warping
Stabledge joints will not swell or require sanding
Comes with a 50-year limited warranty
50-Year no-sand guarantee
The Stabledge name is stamped on the face of each panel for easy identification by builders and homebuyers
Stabledge premium sub-flooring provides a strong, dimensionally stable sub-floor that is consistent from panel to panel
Stabledge carries the APA grade stamp rating for floor applications and exceeds PS 2 standards
Premium unit covers help protect the panels during handling and storage
No added urea-formaldehyde resins, CARB exempt
Stabledge is suitable for carpet, wood strip or parquet flooring (must be installed to manufacturer's and/or NWFA instructions). Vinyl flooring requires the use of the vinyl manufacturer's approved underlayment. Follow material manufacturer's instructions. If finished floor is to be adhesive-bonded resilient flooring, always use an approved underlayment, following the manufacturer's instruction, over West Fraser sub-floor OSB.