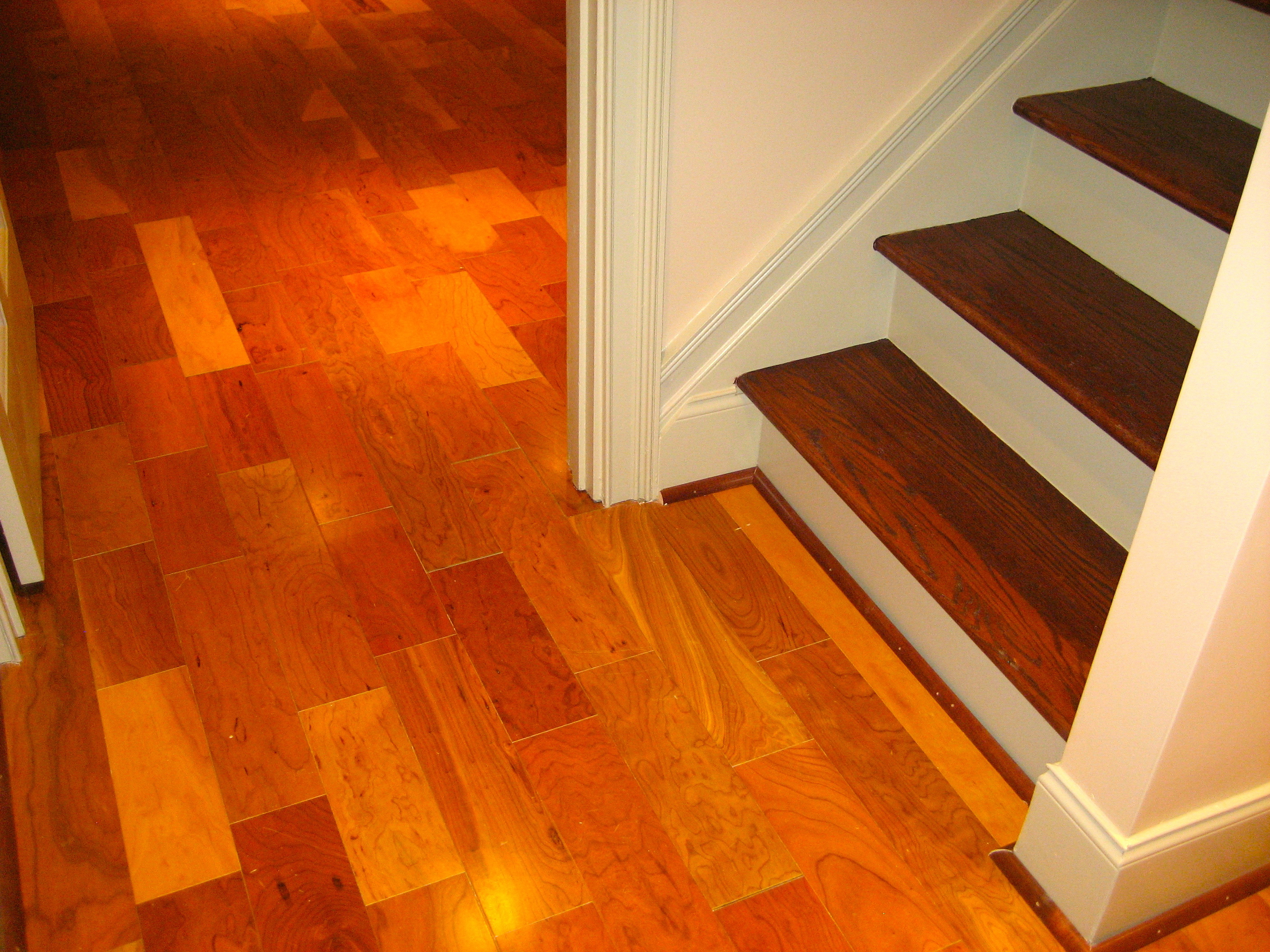 OSB structural wood panels can be installed over concrete slab floors for both commercial and residential applications. The panels can be installed directly onto the concrete slab, over
sleepers which are installed onto the concrete slab or over rigid foam insulation. The efficacy of these methods is reliant on the proper installation of an appropriate 6 mil polyethylene vapor barrier which prevents moisture inherent in the concrete slab from transferring to the flooring installation above.
Wood Flooring Panels on Concrete
In order for this application to be successful, the concrete slab must be level and free of flaws. To ensure an even floor, a topping layer of gypsum concrete or lightweight concrete can be poured over the concrete slab, but must be allowed to cure sufficiently prior to flooring installation.
The flooring system can be glued directly to the concrete slab, but here adequate pressure must be applied during curing. Where vapor barriers are installed over concrete slabs, mechanical fasteners must be used to attach the flooring system to the concrete slab. The expense of this kind of installation can be prohibitive.
With new construction, install a 6 mil. polyethylene vapor barrier under the concrete. If it is unknown whether that barrier exists under the concrete, allow the concrete to completely dry (could take from 6 to 18 months) and use a vapor barrier with the new floor.
Wood Flooring Panels over Sleepers
OSB flooring panels over 2×4 sleepers is one of the most cost-effective ways of installing a flooring system over a concrete slab. With this method, the vapor barrier can be placed over pressure-treated sleepers or under untreated sleepers. Here the sleepers must be attached to the concrete slab with mechanical fasteners and/or adhesive (use an adhesive that meets construction standard ASTM D3498).
Insulation can be incorporated between sleepers. Sleepers can be installed so that they are level, thus overcoming flaws in the concrete slab and providing a straight, even surface on which to place the flooring system.
Ensure adequate spacing between panels and between panels and walls to accommodate wood panel expansion in varying moisture conditions (this is especially important below grade). Adequate panel spacing can reduce or eliminate panel issues and uneven flooring. This is especially important for below-grade slabs where moisture is of greater concern.
Wood Flooring Panels over Rigid Foam Insulation
Applying OSB flooring over rigid foam insulation (must be at least 1-inch thick) helps to keep flooring even and provides excellent insulation. If using a single layer of panels, prevent differential deflection and potentially crushing the foam by backing the square edges of panels with splice plates. If you don't want to use splice plates, install a double layer of square-edge panels with joints and seams offset or use T&G sub-floor panels to distribute the loads.
Avoid overdriving mechanical fasteners as this will crush the foam insulation and potentially damage the concrete below. Where foam is compressed under fasteners it can, over time, cause nail popping which can result in a squeaky floor.
Pressure-treated lumber must be used where lumber is in direct contact with the concrete slab and waterborne ACZA or ACQ treatments are recommended with a preservation retention level of at least 0.25 lbs/ftᶟ. The preservative treatment should be 3B or higher; download the APA technical notes for this application here. Allow concrete to sufficiently cure prior to flooring installation.
Wood Structural Panels over Above-Grade Concrete Floors
Concrete slabs can take 6 to 18 months to properly cure. When installing wood structural panels onto concrete that is still 'green', use the methods discussed above.
Installing APA-rated wood flooring panels over sleepers is the recommended installation method. It provides the most benefits and is also an economical choice. Always provide adequate panel spacing, always use an appropriate vapor barrier and use pressure-treated wood below any vapor retarder.