TruFlor pointSIX® is a commodity T&G sub-floor that offers value, strength and durability on the job site. Manufactured with a 0.6mm taper on the panel edges to offset edge swell, TruFlor pointSIX consistently delivers the quality and performance builders need at a price point that represents value.
WHAT IS POINTSIX TECHNOLOGY?
TruFlor pointSIX features a patented tapered edge that is designed to offset the effect moisture has on panel edges. The pointSIX name comes from research proving a nominal 0.6mm taper to be effective against edge swell. If the panel is exposed to rain or humidity, the tapered edges have room to expand and become flush with the surface without ridging.
FEATURES AND BENEFITS
PointSIX taper on the 4-foot and 8-foot edges to offset edge swell
The 4×8, 23/32 T&G panels are engineered to be used in sub-floor applications (19/32, 7/8 and 1-1/8 TruFor pointSIX is available in some markets)
TruFlor pointSIX's profile is designed for fast and easy installation
Comes with a 25-year limited warranty
Able to withstand normal construction delays without structural properties being affected
Meets or exceeds PS2 standards and is APA grade stamped as an exposure 1 panel
TruFlor pointSIX provides quality and performance to control costs and cycle times
Turquoise Edge Seal® for easy identification
No added urea-formaldehyde resins, CARB exempt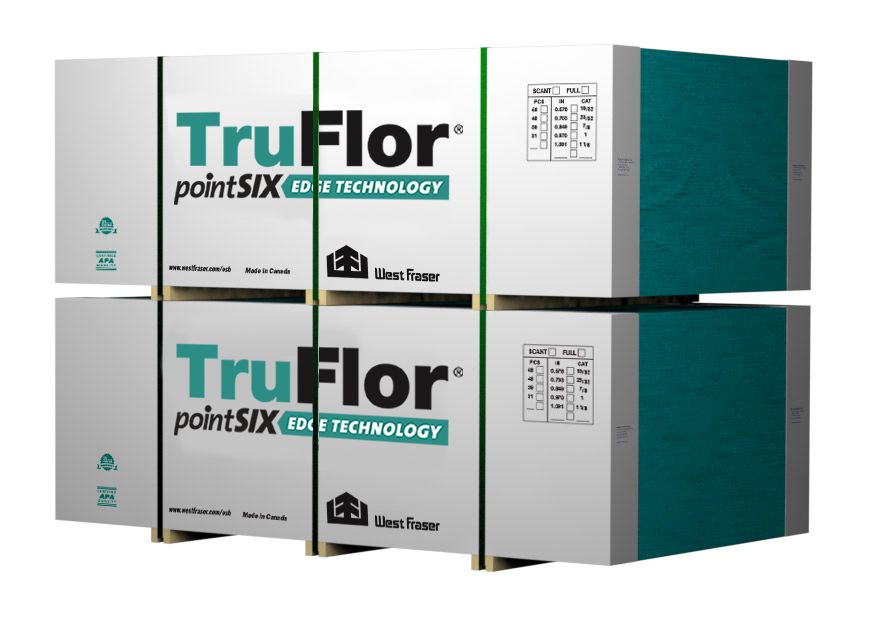 TruFlor pointSIX is suitable for carpet, wood strip or parquet flooring (must be installed to manufacturer's and/or NWFA instructions). Vinyl flooring requires the use of the vinyl manufacturer's approved underlayment. Follow material manufacturer's instructions. If finished floor is to be adhesive-bonded resilient flooring, always use an approved underlayment, following the manufacturer's instruction, over West Fraser sub-floor OSB.