Pinnacle® is a premium T&G sub-floor that is engineered to be strong, durable and withstand the effects moisture has on panel edges. Pinnacle delivers a high-performance sub-floor that lets you build faster without sacrificing material quality or profitability.
FEATURES AND BENEFITS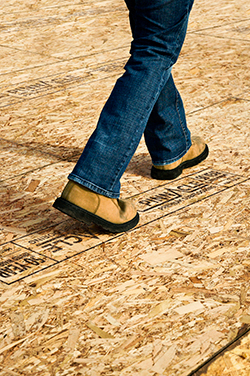 The 4×8, 23/32 T&G panels are engineered to be used in sub-floor applications (19/32, 7/8 and 1-1/8 Pinnacle is available in some markets)
Engineered for strength, durability and overall performance
The T&G profile is designed for fast and easy installation
Backed by a 50-year limited warranty
200-day no-sand guarantee that covers you well beyond typical construction cycle times
Panels will not delaminate and there are no core voids or knots
To show that a premium sub-floor has been used, a Pinnacle logo is printed on every panel
No added urea-formaldehyde resins, CARB exempt
A premium sub-flooring that can help control costs, shorten build times and reduce hassles
Meets or exceeds the PS 2 standards and is APA grade stamped as exposure 1 panel
Pinnacle is suitable for carpet, wood strip or parquet flooring (must be installed to manufacturer's and/or NWFA instructions). Vinyl flooring requires the use of the vinyl manufacturer's approved underlayment. Follow material manufacturer's instructions. If finished floor is to be adhesive-bonded resilient flooring, always use an approved underlayment, following the manufacturer's instruction, over West Fraser sub-floor OSB.