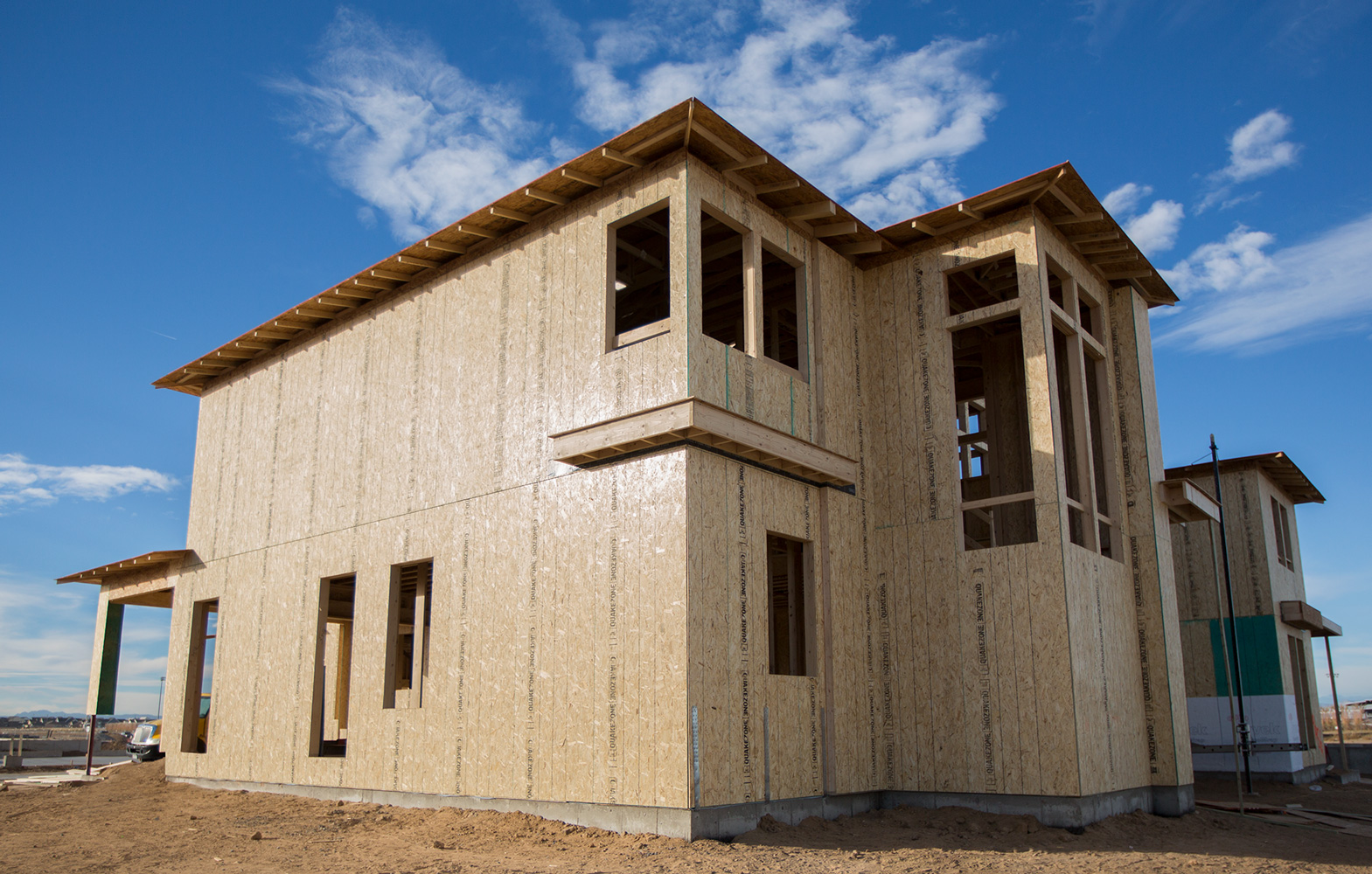 By Tom Murphy
Construction is experiencing higher demands on budgets, product capabilities, deadlines and skilled labor. If you are an engineer, builder, or general contractor/framer you need a simple and different approach to attain the perfect height panel for your dimensions. The premise here is that the 4×8 panel may no longer meet the speed requirements necessary with the taller ceiling demands and air leakage demands of modern wood-frame construction. Conventional 4×8 panels are becoming outdated and slow down the framing crew with the number of time-consuming cuts, back-and-forth panel pick-ups and additional framing attachments.
This is not including the excessive amounts of waste from panels you do not need to cut in the first place. Along with the recent requirements of the Air Blower Door Test (and with increased demand requirements on the way) the simplest and most cost-effective way to decrease air leakage by up to 60% is by eliminating panel gaps completely. Below are 8 reasons more engineers, builders, contractors and framers are using taller panels in lieu of, or along with, conventional 4×8:
GOES UP FASTER – Less time-consuming panel cuts and less panel carries = fewer days of unfinished business. Move your framing crew on to the next build much faster than with regular 4×8 (fewer panels used = less labor and material costs).
SIMPLE TO INSTALL – TallWall installs the same as 4×8, only the objective is to tap into the bottom plate and up into the top plate or into the rim.
REDUCES AIR LEAKAGE – Due to the placement of all vertical gaps along the studs, you will see up to 60% less air leakage because the gaps are no longer there.
REMOVES BLOCKING – By installing the panel vertically, making a complete connection from the bottom plate to at least the top plate, the shear strength requirement is attained in the panel itself, therefore there is not a need for shear strength blocking.
REDUCES WASTE – By eliminating needless extra panels, and extra panel cuts, your trash bin will have a much smaller load to be hauled off.
NO JOINTS TO FOAM OR SEAL – When running the panels vertically and parallel to the studs, your gaps between each panel will be located on the stud itself, thereby eliminating gaps that may need to be caulked/filled.
3rd PARTY TRADES – From electrical, to plumbing, to insulation installation, no third-party trades have ever complained about not having blocking to cut, adjust, or move around.
SAVE MONEY – Use less material, less labor, less waste and, when used with a raised-heel truss, less attic insulation.  Help Norbord save you the extra cash you deserve.
At Norbord, we understand how difficult it can be to manage suppliers, timelines, and budgets. We have helped hundreds of contractors simplify wood-frame buildings by engineering the perfect height panels for their premier build dimensions. When projects are simplified, things get done easier, faster, and more efficiently.
A Norbord representative can walk you and your framer through the simple process of the proper panel install for the correct floor height and joist depth. Contact your local representative today and get him out on your next wood-frame project.