StableDeck® and StableDeck+® Engineered Stand Products (ESP) are precision-engineered for use in the decks of enclosed trailer systems. Both high-performance panels are manufactured to withstand recurring impacts, twisting, cupping, cracking and warping.
StableDeck+ is manufactured with additional resins and wood to deliver extra strength and rigidity where needed.
Build better trailers
Available in various lengths*, when sanded, StableDeck and StableDeck+ afford the thickness tolerance required of components in the most precise applications. Both products are manufactured in multiple locations across North America to help reduce customers' transport costs.
Specify StableDeck or StableDeck+ to maximize both quality and performance of the enclosed trailers you manufacture.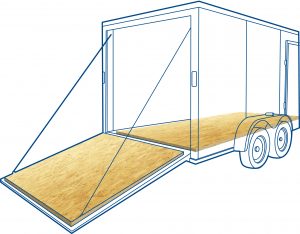 Features and Benefits
No knotholes or core voids, and withstands higher impacts than plywood alternatives
Excellent resistance to twisting, cupping, cracking and warping
Strong fastener holding
Excellent anti-swell properties
Superior yield due to optimized panel sizes
Clean surfaces, free of patches, putty and other imperfections
Smooth sanded finish on the face of the panel with no panel markings
1-year limited warranty
Meets or exceeds APA PS2 standards
StableWall and StableWall+ panels also available for enclosed trailer manufacturing
CARB (California Air Resource Board)-exempt – free of any urea-formaldehyde resins
*Contact our solutions team for other dimensions & thicknesses. Minimum order runs may be required.
Get StableWall and StableWall+ for your enclosed trailer wall systems. Learn more.