Our StableWall and StableWall+ industrial-grade panels are part of West Fraser's Engineered Strand Products (ESP) line. They offer multiple advantages to the transportation cargo manufacturing industry customers who are in search of consistency, quality and overall appearance.
StableWall and StableWall+ are sanded to brighten the panel face which provides a surface that is consistent in color and more visually appealing than alternative panels.
Strong or stronger
Both StableWall products are precision-engineered for use in construction of walls for enclosed trailer systems, with a high internal bond that easily accepts and holds nails, screws and staples. Sanded StableWall panels deliver the thickness tolerances required of components in the most precise applications. Panels are available in 4×8 and are manufactured in multiple locations across North America to lower customers' transportation costs.
Specify StableWall or StableWall+ to get the best performance out of your enclosed trailers.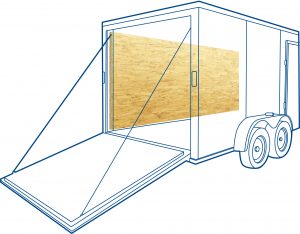 Features and Benefits
Steam pre-heating technology acclimatizes the panel for improved core strength and stability
High internal bond that easily accepts and holds nails, screws and staples
Resistance to twisting, cupping, cracking and warping
Outstanding anti-swell properties
Excellent yield due to optimized panel sizes
Clean surfaces free of patches, putty and other imperfections
Smooth sanded finish on the face of the panel with no panel markings
1-year limited warranty
Meets or exceeds APA PS2 standards
CARB (California Air Resource Board)-exempt and contains no urea-formaldehyde resins
Get StableDeck and StableDeck+ for your enclosed trailer floor systems. Learn more