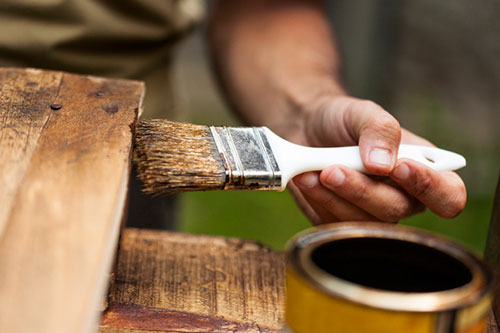 If your deck is looking old and tired, you don't necessarily have to settle for a new one. You can give your old deck a facelift and get a few years out of it with these deck renovation tips. Getting a good finish on your old deck means taking the time to prepare the surface properly.
To Strip or Not to Strip
Check to see if your deck just needs a good clean and a staining before you decide to strip your deck completely. Stripping a deck is a huge undertaking, so if your coating is just faded, you can get away with giving it a good clean and then staining the boards.
If the coating is peeling, if there are areas where pet scratching or foot traffic has worn the coating off, you may have to strip the deck.
Stripping the deck is a task best left to the professionals. Deck strippers can contain sodium hydroxide (lye) which can leave you with chemical skin burns and a dead garden. If you do attempt the stripping yourself, always neutralize the lye after the job is done and protect your skin and the plants around your deck. Be sure to keep children and pets away from the area.
Cleaning your Deck
Years of dirt, vegetation and traffic make decks difficult to clean properly. Avoid using household cleaners or bleach on your deck and opt for a commercial deck cleaner instead. These are stronger than household cleaners and will get out the dirt and vegetation that gets stuck in the wood grain and between planks.
Nothing works as effectively as elbow grease, so make sure you scrub the cleaner into every nook and cranny and then rinse off with clean water. Follow the manufacturer's instructions to get the best results.
Finish off with an oxalic acid-based brightener for optimum results. Cleaners and strippers will cause the wood to darken and the brightener restores the wood to its natural color and its original luster.
Pick the Right Finish
Transparent stains are easier to apply than semi-transparent or solid stains, but they need to be reapplied every year. Solid colors have the greatest longevity, lasting three or four years before they need reapplying, but they do change the look of the wood.
If a client requests a solid finish, do a couple of sample boards to ensure that the color suits them before completing the whole deck.
Apply the stain with a sprayer or roller. Use an extended pole for easier roller application. When using a stain that is water-based, keep a wet edge to avoid lapping.
If you need to take a break while staining, wrap your roller in a plastic bag to prevent drying. Leave 24 hours for the stain to dry before use.