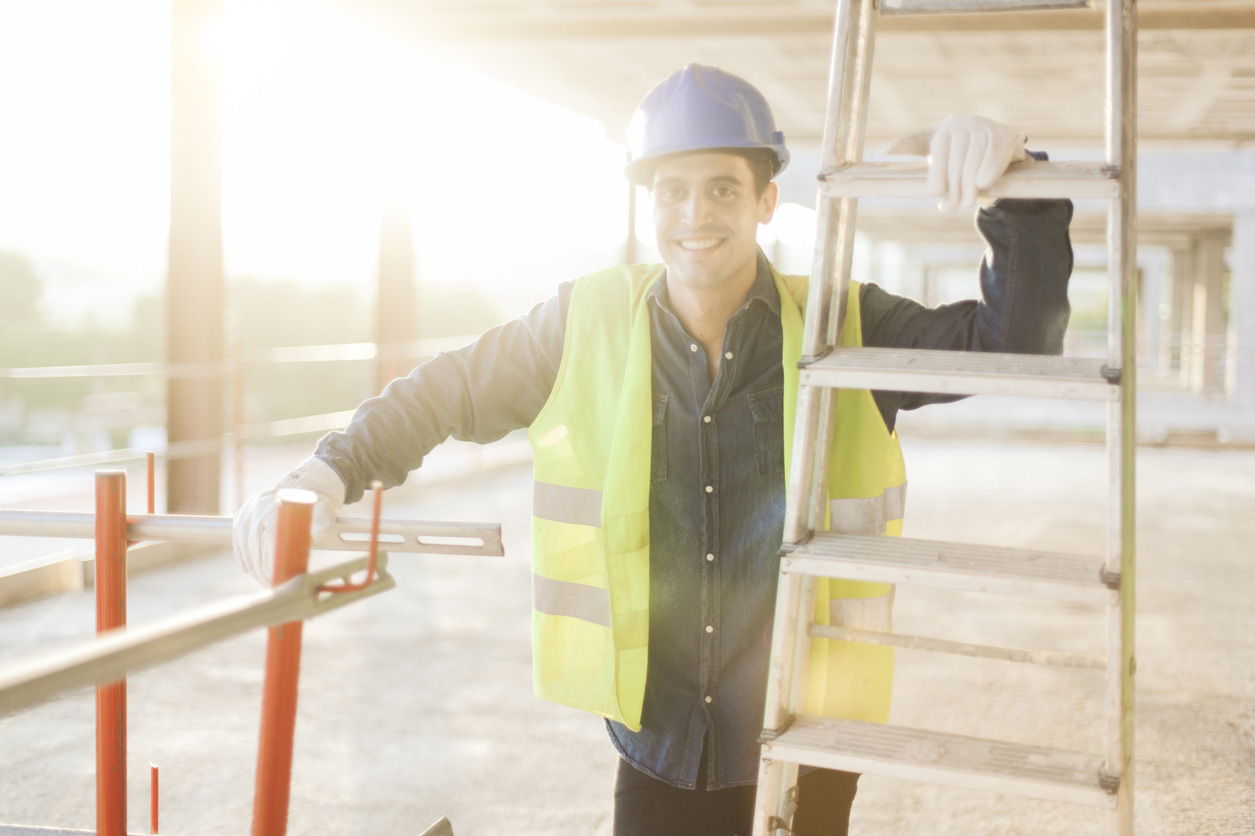 When you are working at height, your ladder is your foundation. Selecting the right ladder for the job will ensure the safety of your crew on the jobsite. Height is your first consideration when selecting a ladder, but you must also pay attention to the kind of material it's made of and its duty rating.
In 2010, there were 724,000 reported injuries on the jobsite related to ladders—that's nearly 2,000 injuries every day. It's estimated that about a hundred of those resulted in debilitating injuries and one person died every day from falling off a ladder. Ladder safety and training is something that must be enforced on jobsites in order to keep your crew safe.
Picking the Rise Size and Type
When considering whether a ladder will support your weight, don't forget to add the weight of the tools and equipment you will be hauling up there. Consult the manufacturer's instructions to determine the maximum working range of each product. For example; a sixteen-foot ladder has an approximate standing level of 13 feet, 4 inches for a reach of about 20 feet.
The top choices for ladders are aluminium or fiberglass. Aluminum ladders are lighter for example; a ten-foot aluminum ladder weighs 30 pounds to the 34 pounds for a fiberglass option. Aluminium ladders can pose a hazard near electrical wires and fiberglass is a better option here.
The duty ratings are as follows:
| | |
| --- | --- |
| Light-duty household | 200 pounds |
| Medium-duty commercial | 225 pounds |
| Heavy-duty industrial | 250 pounds |
| Extra-heavy-duty | 300 pounds |
| Super-heavy-duty | 375 pounds |
Ladder Safety Tips
Never over-reach when working on a ladder. Get down and move it and be sure to use the right ladder for the job.
Always maintain three points of contact when working on a ladder; usually both hands and one foot when climbing up and down, and two feet and one hand when working.
Stay two steps down from the top of a step ladder. With extension ladders, stay four rungs down from the top. The top of your extension ladder should reach three feet past the top of your working surface.
Ladders should always maintain a 75 ½ degree angle to the ground. From OSHA: "the base of the ladder should be 1 foot away from the building for every 4 feet of ladder length…"
When working with extension and portable ladders, ensure that a minimum of 1 m (3 ft.) extends above a landing platform and always tie off the top at support points. Ladders should be tied off at the bottom too—if there are no surrounding structures, put a stake in the ground.
Use signage to warn passers by of workers on ladders and cordon off areas to keep everyone safe. Keep ladders at least 10 feet away from power lines.
Working above 3 metres (10 ft.) requires workers to wear safety belts or harnesses with a lanyard tied to the structure.
Regularly inspect your ladders for wear and replace and repair as necessary.
Keep the OSHA ladder regulations and recommendations from manufacturers in a place where workers can regularly review them