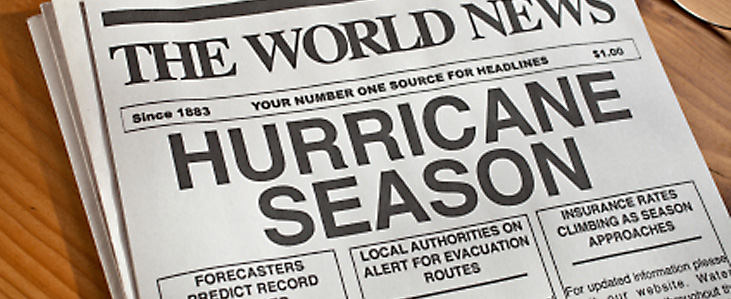 Preparing your home for hurricane season helps to mitigate damage during high wind events and reduces the risk of injury or death for home occupants. We have already discussed a number of ways in which to prepare your family for inclement weather, and here are some hurricane preparedness tips for your home.
Preparing for storms
Trim trees and shrubbery around your home. This will prevent branches from breaking off in high wind events and causing damage to your home or car.
Ensure that your home insurance covers storm damage and floods. Check that the policy is up to date and that you are fulfilling all of the preparation requirements to validate the policy.
Keep a supply of OSB wood panels for your home. You may find that these are in short supply once a storm warning has been issued. Use these wood panels to board up your windows if you don't have hurricane shutters. Hurricane shutters or hurricane glass windows will prevent breakages during storms. Flying glass debris poses an enormous injury threat during storms.
Use OSB wood panels to secure your garage doors.
Clear downspouts and gutters and ensure that water is being channeled away from your home. Check that the ground around your home is sloping away from the walls and basement.
Bring in all movable objects in your yard. This includes barbeques, lawn furniture, planters etc. These can become dangerous flying objects in a high wind event.
Building for high wind events
Use hurricane straps to secure your roof against high winds.
"Roofs with multiple slopes, like a four-slope hip roof, are better at resisting increased loads in high wind events. Research and testing show that a 30-degree roof slope has the best results," says architecture professor Rima Taher.
Combined shear and uplift forces place pressure on the building structure. Overhangs also contribute to uplift and shouldn't be more than 20" in areas with high hurricane risks.
Installing the right size structural wall sheathing vertically takes only two steps as opposed to the traditional seven-step method of building for high wind events. When you use the right size wall sheathing, there is no need for metal connectors and all that blocking at horizontal joints. This structural wall sheathing can provide the required continuous load path needed to resist high winds and meet high wind codes. With raised heel trusses these longer panels can extend to the underside of the rafters to provide the required continuous load path and eliminate the hurricane clips.
Follow the APA System Report for combined shear and wind uplift which details the process which builders can follow to ensure that the structure is able to resist hurricane-strength winds. For example the structural sheathing with the appropriate fastener schedule must be a minimum thickness of 7/16", overlap the bottom plate and both the double top plates, or extend into the band area for 2-story application.
Taking time to prepare your home and family for hurricane season in late spring will be well worth the effort. Once a storm warning has been issued, there won't be time to make all the necessary preparations like buying and OSB wood panels. Being adequately prepared is the best way to keep your home and family safe.