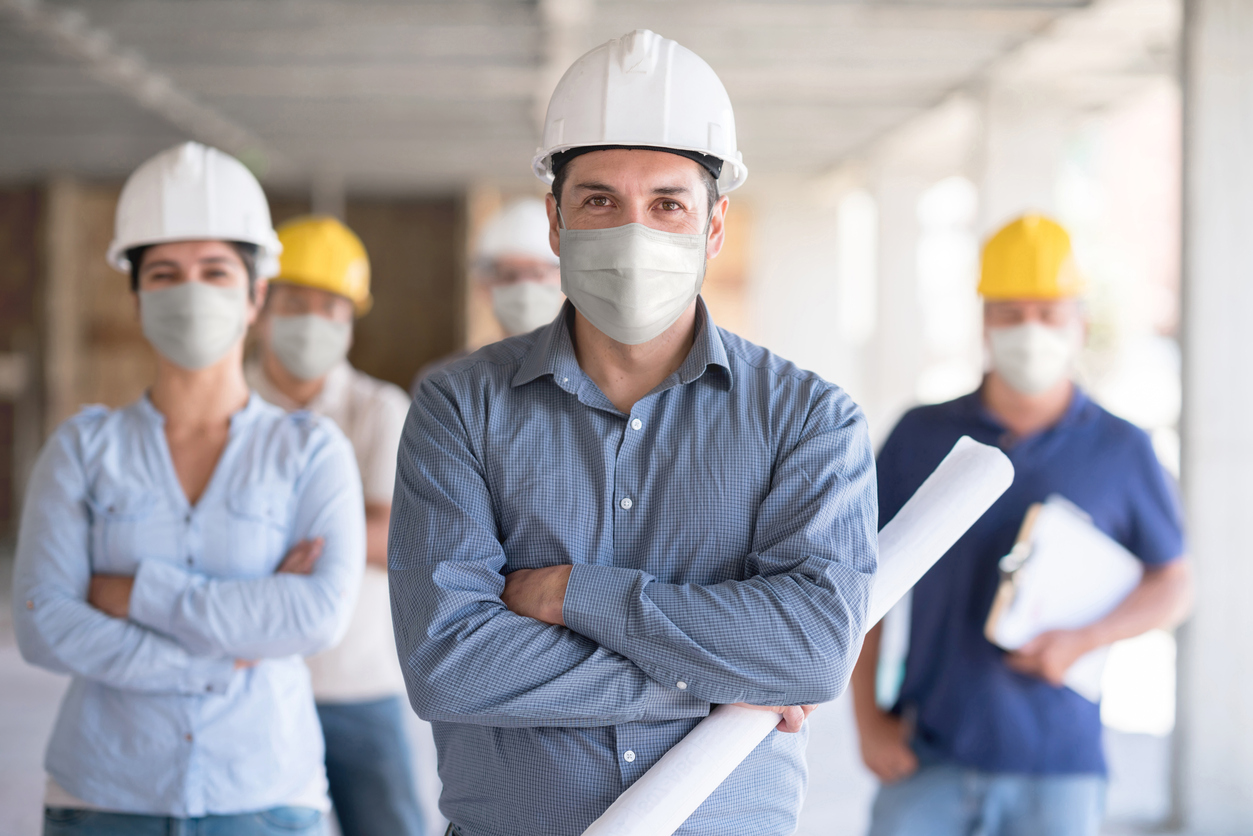 When it comes to masks, construction workers have a huge advantage. Accustomed to wearing face coverings for much of their work day, construction workers also have a selection of masks at their disposal. So which ones work best to keep you safe on the jobsite?
Firstly, any kind of face covering will help to prevent the spread of the virus. Small droplets from sneezing, coughing and talking are contained which helps to keep you safe. This is especially important on jobsites where social distancing is not an option and workers have to be in close proximity to each other.
Fabric Masks
A study by researchers at the Florida Atlantic University's College of Engineering and Computer Science used a control with no mask and then tested a single-layer bandanna face covering, a homemade mask with 2 layers of 7-thread-per-inch cotton, a folded handkerchief and a non-sterile cone mask.
With a simulated cough spray, droplets were spread up to 12 feet with no mask. The rest of the face coverings performed as follows:
Single-layer bandanna—3 feet and 7 inches
Cotton handkerchief—1 foot and 3 inches
Homemade mask—2.5 inches
Cone-style mask—8 inches
Researchers found that face coverings that fit tightly were better as was thicker materials.
Many jobsites now require masks and you can get instructions for making your own mask from the Center for Disease Control (CDC) here. You can also download their guidelines for making jobsites safer here.
N95 Respirators
N95 respirators are regularly utilized on jobsites and are an excellent option as a face covering. They are able to filter our 95% of particles. You can find out more from the OSHA guidelines about N95 masks on jobsites or consult the frequently asked questions section for more info.
Other Options
With a global shortage of N95 masks, many construction professionals are turning to alternatives that work as well or even better. Some of these include N99, N100, R95, R99, R100, P95, P99 and P100 masks or NIOSH-approved, elastomeric respirators or powered, air-purifying respirators.
N95 masks can be reused, but a cloth mask is not an acceptable substitute in situations where respirators are required by OSHA regulations.
Face shields may be used in tandem with face masks for added protection but not in place of face masks unless they extend around the sides of the face and below the chin.
Masks should be washed after every use. Masks that are not washable should be disposed of properly after use. Wash hands before and after removing your mask.