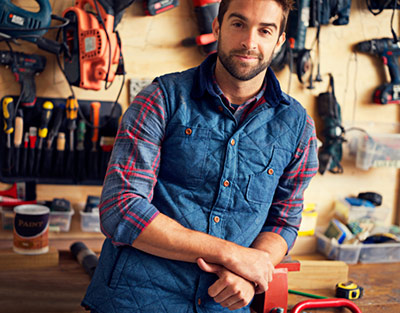 Organizing your workshop and getting the most out of every item that comes through your door will take a little effort, but it will save you time and money in the long run. Here are a few easy steps to creating the ideal workshop space.
Foam brushes may only last for a single application, but don't throw them out. Cut away the sponge to reveal the plastic tab and you've made yourself the perfect glue applicator.
Safety Holder for Blades
If you don't have a proper storage place for extra saw blades, they could be dangerous. Use a bolt and thumbscrew to attach them to an old 5-gallon bucket lid. The blades will be protected and you won't get a cut rummaging through your tool box.
Picture courtesy of the Family Handyman
Wet Paint Roller Preservation
If you are taking a break from painting, wrap your roller or paintbrush in a plastic bag. That way the paint doesn't dry and wreck your tools and you don't have to clean your brushes and rollers until the job is done. You can even store them in the freezer for longer periods when they are wrapped in plastic bags.
Casters are King
Put everything that needs to move on a platform with casters. That way you can move it around to create space or for easy access when you need to. Check out this great workbench and tool station on casters from This Old House and get the step-by-step guide to making it yourself here.
Upcycle Broken Shop Vacs
The canister from old shop vacs make great portable bins. Simply remove the lid and motor and you have a handy bin for storage or trash which you can wheel around the workshop with you.
Store your Tape
If you've ever tried to rip off a piece of duct tape with one hand, you know the struggle. This brilliant tape storage from American Woodworker uses a hacksaw blade to cut tape easily. Get the DIY guide here.
Cleaning Metal Shavings?
The mess you make with a drill press can get in under your skin so don't use your hand to clean them up. Instead put a magnet in a plastic bag and run it over your work surface. The filings collect on the outside of the bag and you can simply close the bag before removing the magnet for safe disposal.
Drill Bit Storage
Magnetic strips mounted on the wall make the perfect storage for drill bits. You can also use the magnetic strip wall mounts designed for storing kitchen knives.