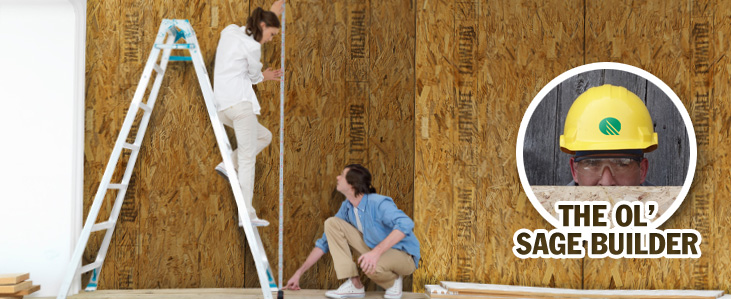 9-foot trims are becoming an increasingly popular choice and prices have reflected that preference.
The trend toward more 9-foot ceilings in both single-family and multifamily housing starts is really gaining traction. A survey by Random Lengths showed 2011 production of 9-foot and longer trims had increased to 31% of total output. Another survey by Wood Markets Report conducted in 2012 showed 9-foot and longer output had grown to 36%.
9-foot ceilings continue to take a bigger market share in new housing and it's easy to see why; it just makes sense to use longer panels. Taller wall panels reduce air leakage significantly; in fact, TallWall sheathing reduces air leakage by 60%. Taller wall panels are also faster to frame with less cutting, errors, and waste. Using taller wall panels is a common sense approach – with a
9 foot panel (or Windstorm's 109 1/8" or 10' TallWall or Windstorm's 121 1/8") using 4×9 and 4×10 panels allow you to cut out the window and door openings instead of cutting pieces and potentially leaving gaps. This also means stronger walls and less air leakage.
Taller wall panels like Windstorm and TallWall can provide a continuous load path and eliminate blocking and they can eliminate gable end hinge points because the panels extend beyond the top plates into the truss members.