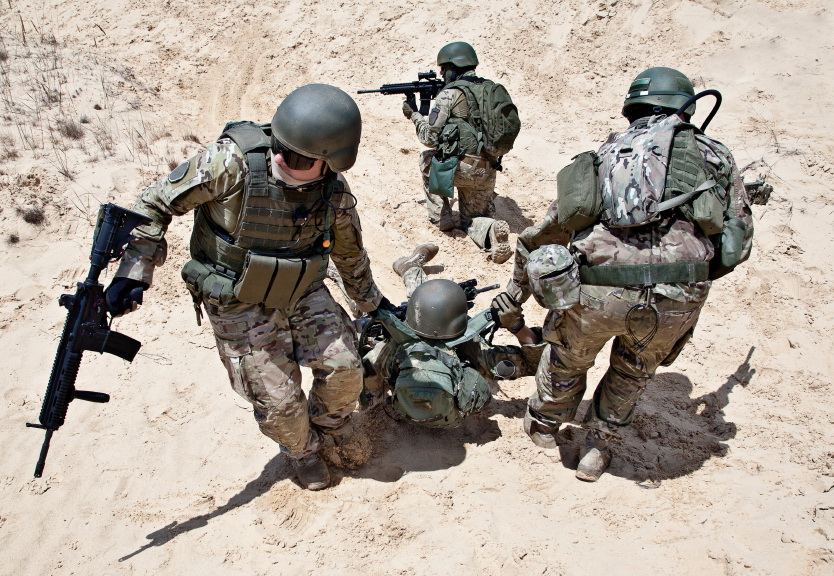 As veterans return home, they must overcome many obstacles when reintegrating into society. This is especially true of injured veterans. Faced with psychological and physical disabilities, many returning veterans experience dire hardships including financial difficulties, lack of employment and even homelessness. Now members of the building industry in the US and Canada are using their skills and resources to provide specialized accommodation for returning veterans.
Operation Finally Home
Founded in 2005, this non-profit organization (led by the Bay Area Builder's Association) aims to provide wounded and disabled veterans with homes of their own. Building professionals from every field donate time and resources in helping Operation Finally Home to provide homes for veterans. They also hold fund-raising events designed to collect much-needed donations and raise awareness.
"We've been involved with 66 homes to date," says executive director Daniel Vargas. "34 Homes have already been completed with 32 in the process of being finished off for returning soldiers and the widows of the fallen."
Operation Finally Home has helped many returning heroes like first lieutenant for the US Marine Corps T. Erasmo Valles. On March 31,
2004 Valles and his platoon were setting up a roadblock in Hit, Iraq when his HUMVEE struck an anti-tank mine. The force of the blast pushed the engine over Valles' legs and onto his lap. When he finally managed to crawl free of the wreckage, he saw that his legs were facing the wrong way. After 22 surgeries and the loss of his left leg, Lt. Valles is on the road to recovery. He has moved to his new home in Texas where he is enrolled in graduate school. His new beginning has given him hope for his family and three young children.
"When we build a home, we ask everyone in the community to donate resources, talents and materials," says Vargas. "Whatever the community donates drives the cost of the house down." You can lend your professional help, resources, donations and time to furthering the great work done by Operation Finally Home or attend one of their fund-raising events. See ways in which you can help here.
Helping a Hero
HelpingaHero.org is a non-profit which builds specialized homes for wounded veterans. To date they have provided 90 homes in 21 states and are currently working on two homes in Kentucky.
One of the latest fallen heroes to receive a new home from the Huston-based foundation is Cpl. Jessie Fletcher. Fletcher was a sniper on his second tour to Afghanistan when he stepped on an IED which caused the loss of both legs, several fingers and the hearing in one ear. Fletcher has received an acre in Winston-Salem, NC. Local designers, architectures and builders have banded together to create a unique, wheelchair-accessible home where Fletcher will live with his fiancé. Click here to find ways in which your talents can help these brave soldiers.
Wounded Warriors
When Wayne Johnston was assigned to casualty management for Afghanistan veterans, he realized that Canadian soldiers needed more help than they were getting when they returned from active duty. This inspired him to start Wounded Warriors an organization that was originally created to send care packages to wounded veterans. Today, this incredible organization has grown into a very comprehensive support system that aims to help veterans integrate into society.
Their focus ranges from mental health and dealing with PTSD to helping veterans retool for new careers. "There isn't a single solution," says Scott Maxwell, Executive Director of Wounded Warriors, "every soldier and their experiences are different so we have made an effort to offer a wide range of our own programs, and third party programs which we fund, in order to help find the appropriate program to assist our Canadian Forces members and their families in need."
Wounded Warriors is independent and not funded by the government. They rely on donations and volunteers to provide essential services to help veterans. "People can support Wounded Warriors in two ways; one is to help us with donations which allow us to help soldiers in retraining once they have left the armed forces and provide invaluable services to help them integrate. The second thing they can do is to hire a veteran. It's often said that if you hire a veteran, you're going to get the most loyal and dedicated employee on the planet. But they need the opportunity to help them to get active in public life. So hire a veteran; you'll be so glad you did," says Maxwell.
Visit their website to get more information about upcoming events or how you can help.