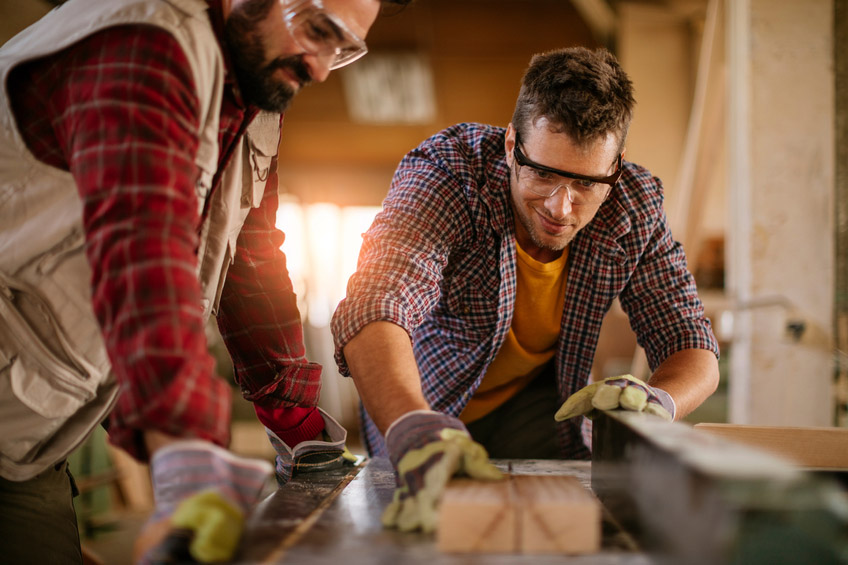 Knowing the tips of the trade can help you to complete jobs on time and at a profit. This improves the
customer's experience and results in fewer delays and expensive callbacks. Here are some pro tips that will help you to get the job done right.
Make a List, Check it Twice
The key to carpentry success is careful planning. Take time to review the drawing thoroughly before accepting a job. Knowing the scope of the job will allow you to quote accurately and to schedule your time properly. Be sure you know the conditions of the site and the scope of the job you will have to complete.
Ensure that all permits and approvals have been obtained before you start. A job delayed by paperwork will have a huge effect on your scheduling and productivity.
Checking the Site
Once the plans and permits are in order, pay a visit to the site. Check that you will have easy access and whether you will have to provide power. The working conditions and any potential hazards are important to note so that you stay within the OSHA safety standards.
Speak with the site manager if you need anything prepared on the site and about material storage and waste disposal. Find out what other contractors will be on site when you are there so that you can coordinate access to resources.
Knowing the site will help you to establish a safe and effective workflow that will allow you and your crew to work as efficiently as possible.
Materials and Tools
Take time to work out exactly how much material you need and don't skimp on your orders. Running out of material really wastes time and costs you money. Always provide the best tools and equipment for the job so that your jobsite is safe and your crew is able to avoid mistakes.
Take time to research new tools and advances in carpentry. Just because you've done something in the same way for years, doesn't mean it's the best way to do it. Continually keeping up with the best tools, new building materials and evolving your techniques will mean you are always becoming more efficient and more accurate. This means you do the job faster and better quality work will mean happy customers.
For example, switching to taller wall panels will help reduce wall air infiltration by 60% while eliminating the need for blocking at horizontal joints which means the wall cavity can be filled completely with insulation. Less work for you and a better building envelope for your client.
Jobsite Management
Treat materials with the upmost care. Always store your materials properly and safely. Layout materials where you will need them at the start of each day so that they are always within reach and you don't spend half the day looking for things.
Taking the time to get organized at the start of every day and to clean up at the end of each job will mean you have a safer, more efficient work space.
Always insist on safety gear onsite and be sure that employees use the safety features on power tools like locks and blade guards. Onsite injuries can be avoided if safety protocols are not negotiable.
Before you start each new job, take the time to carry out some routine maintenance on your power tools. Keeping tools clean and sharp will prevent accidents or mistakes. Replace damage or worn equipment.
Taking the time to maintain the site and your tools, to plan and organize will save you both time and money in the long run. Keeping a safe, clean jobsite will create a safer environment for you and your crew and help you to maintain your schedules and profit margins.