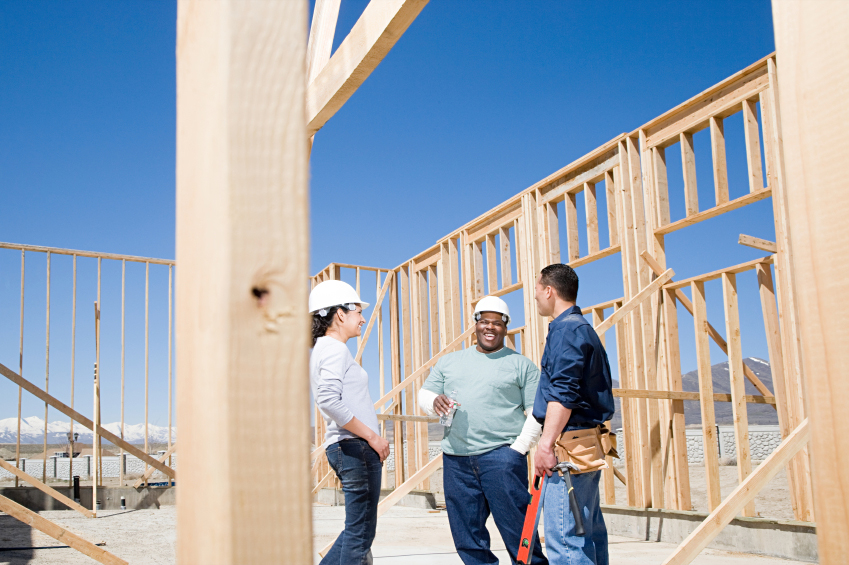 In this first installment of our five-part series on building energy efficient walls, we look at building with wood. When a 'whole house' design approach is adopted, construction
professionals can effectively improve energy efficiency with little  or no increase in construction cost as higher costs may be offset by using a smaller HVAC system or less material. Efficient wall systems enable the construction professional to secure the building envelope and prevent energy loss.
Improved framing efficiency
2×6 wood framing can boost energy efficiency and is a growing trend thanks to the durability and flexibility it offers designers. 2×6 framing spaced at 24 inches on center can improve energy efficiency as the two-inch increment from the standard 2×4 framing means a deeper wall cavity which in turn allows for an R-19, R-20 and R-21 insulation. The 2×6 at 24"oc. means fewer studs are required and this poses fewer opportunities for thermal bridging. Increased costs can be offset with a reduction in the amount of framing lumber required.
Wood sheathing panels improve strength
Wood sheathing has the benefits of durability, strength and flexibility. According to the APA: "Of the many sheathing materials on the market, plywood and OSB structural panels offer the best balance of energy efficiency structural performance and affordability." In addition to strength, durability and efficiency, their impact-resistance keeps residents safe from debris during high wind events.
Wood wall sheathing panels are able to resist lateral and uplift forces as well as inward and outward wind pressures during high wind events. Structural wood sheathing, especially longer length OSB, can mean less need for metal connectors or bracing systems which reduces construction time and cost.
Taller wall sheathing panels
The energy-efficiency of wood wall sheathing panels can be further augmented with the use of taller panels. The use of taller wall OSB panels means fewer lateral seams which can reduce air leakage by up to 60%. Taller panels also eliminate the need for blocking at horizontal joints which leaves the entire wall cavity open for insulation.