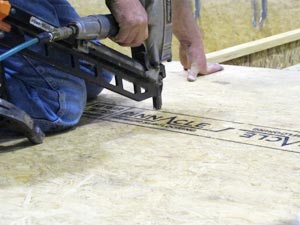 Common mistakes in installing engineered wood can create expensive problems and callbacks like telegraphing in roof shingles and flooring and squeaky or bouncy floors. Wall
sheathing isn't immune to these mistakes either and walls that rattle during strong winds or let moisture in and conditioned air out are caused by a lack of attention to details such as fastening during framing.
Going with the strength axis
Panels are strongest in the direction of the grain, usually the long direction of the top ply. Engineered panels are similar to solid wood, so go with the grain unless otherwise specified. Engineered wood panels should always be installed so that the grade stamp is visible. Subfloors and roofs go stamp down and walls have stamps facing the inside of the house so that the building inspector can confirm that the right OSB sheathing was utilized.
The same goes for glulam beams which are engineered with a slight camber. When installing glulam beams, ensure that the camber faces upwards as they will only perform to their span rating when installed correctly. Each beam will be labeled with a stamp that says 'Top' for easy identification.
Correct panel spacing
Panels will swell to adjust to ambient moisture conditions. The framer must leave a 1/8-inch gap between panels to allow them to acclimate without buckling.
Correct panel supports
Every engineered wood panel needs at least three supports; one on both edges and another in the middle for rigidity. Always check the span rating of the panel, found in the grade stamps, to ensure it meets code for the application.
Using the correct nailing protocols
Nailing patterns suggested by the manufacturer and design professional should be followed. Nails should be driven so that the heads are flush with the panel surface, not below or above it. Overdriven nails reduce panel properties and cause a loss of shear resistance. You should also ensure that nails hit their supporting framing member so that panels are properly secured.
Adhesives
Ensure that you use an adhesive that matches the manufacturer's recommendation and that you apply enough adhesive between the subfloor and joist to prevent squeaking. Only apply enough glue at any one time to install 2 or 3 panels to avoid the glue setting up and causing other problems. Adhesives are to be used in addition to fasteners and not as a replacement.
Improper notching and cutting
This duplicate code violation is a prevalent one in homes with I-joists. Since the greatest shear forces on the web occur near the end of the joist, avoid cutting holes for utilities in this area. I-joist manufacturers provide clear hole-cutting guidelines with their products so follow these for best results.