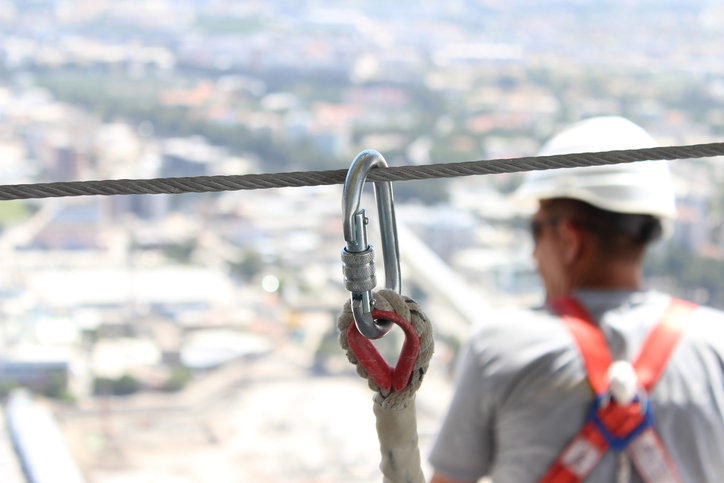 Working at height is dangerous and a liability to construction managers. Not only can it result in injury, but it can cause costly delays on jobsites and incur fines if safety procedures are not followed. OSHA has very clear regulations on safety standards for working above 6 feet that must be followed to ensure the safety of your crew.
Your fall arrest system and safety harness will only be effective if you are using it correctly and at all times. If you are more than 6 feet above a lower level, a personal fall arrest system and safety harness must be worn.
Here are some tips on ensuring that your crew is always safe:
All personnel who are working at height must be trained on the specific equipment you use on your jobsite.
Regularly inspect the harness and fall arrest system to ensure that they are in good working order. Check grommets, straps and buckles for wear.
Always wear the harness correctly and adjust the straps so that it fits tightly. The D-ring should be centered in your back at shoulder blade height. The straps should not be twisted and the chest strap should be tight enough to securely hold you in the harness should a fall occur.
Leg straps also need to be adjusted to suit your body. Loose leg straps can cause injuries in the event of a fall. Don't make them too tight or you will restrict circulation which is a bad idea, especially in the colder winter months.
Check that your lanyard is in good working order. Lanyards should be equipped with a 'shock pack' which will absorb the shock in the event of a fall. Lanyards must be matched to the employee, so check your manufacturer's guidelines to ensure that the lanyard adheres to OSHA regulations.
Inspect your rope for fraying. Ropes must be made from man-made fibers. A rope-catch will help to regulate rope lengths so that the worker will be safe in a fall. Look out for ropes trailing over the worksite which could pose a fall risk.
Body belts are not a sufficient safety measure; OSHA requires the use of full-body harnesses.
Choose an anchor point that is capable of supporting at least 5, 000 pounds for every crew member attached.
The anchor point should be level with your D-ring. It should be rigid with a deflection no greater than 0.4 inches when a force of 2,250 is placed on the anchor point.
Consult your manufacturer's manual and the OSHA guidelines to ensure that your equipment meets code and is being used correctly.