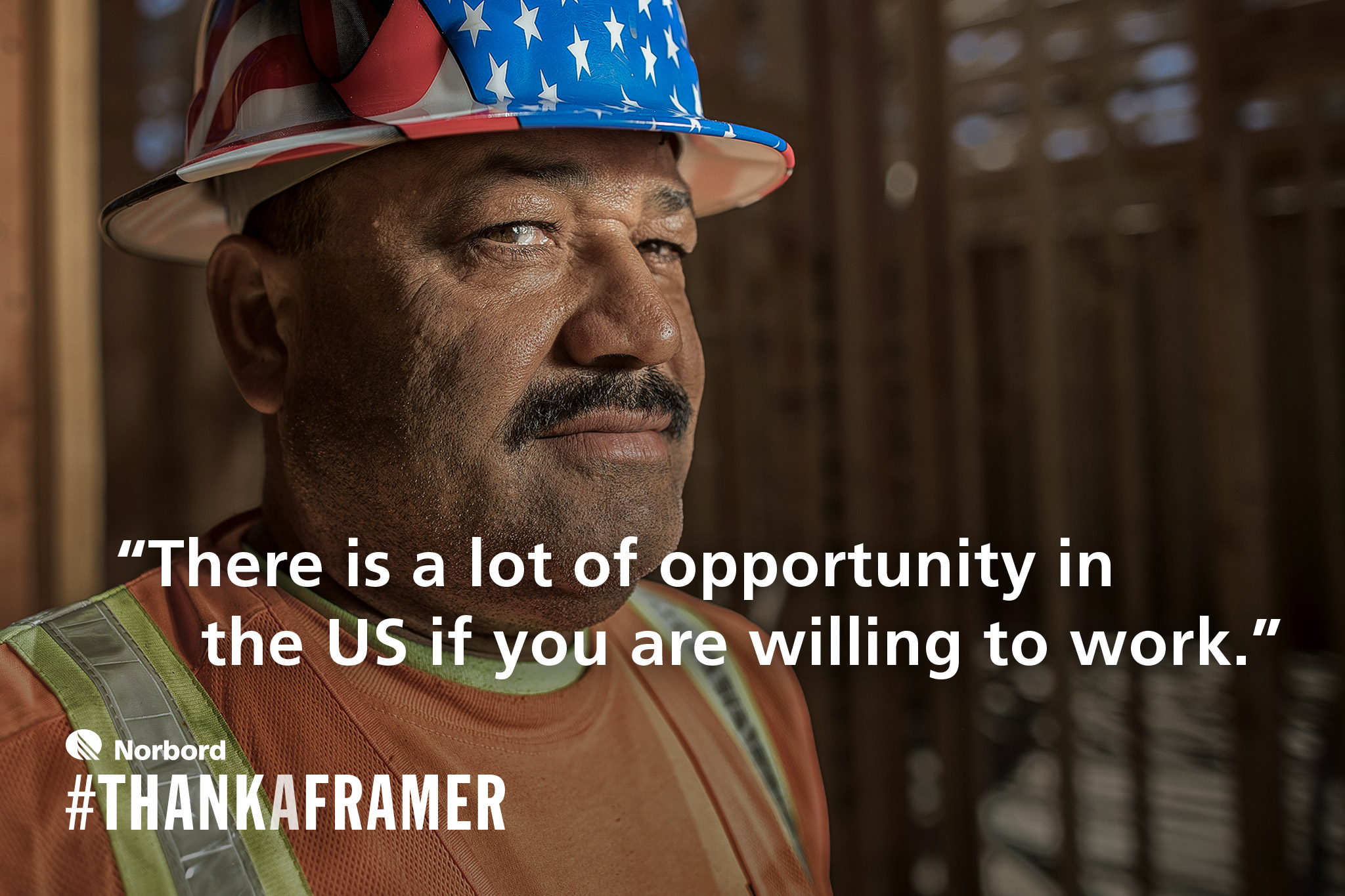 Lenar grew up on his father's farm in El Salvador. He didn't have a bike or shoes and didn't know what a TV was. School was an hour and a half away on foot and, after school, he worked on the family farm. He and three brothers shared a bed. His dream was to come to America and work in construction. In 1988, he moved to the United States at age 17 and began working with his brother who was a construction crew leader in Texas. Lenar said; "I am now an American citizen. Thank God!"
Lenar learned framing on the job by bringing wood to construction crews. In 1989, he began working for a Sacramento framing company called Benjamin King Construction. By 1994, he was a pro and Lenar put together a framing crew of his own and began working for Colafrancesco Framing. Frank Graham also worked at this company and was his foreman. Lenar joined Frank at Timberworks in 2005 as a crew leader. Five Years ago, Frank asked Lenar to accept the position of labor manager. The change gave Lenar the chance to move from a physically demanding position to one that is mentally demanding.
"There is a lot of opportunity in the US if you are willing to work and live a straight life. You can have a better life if you are willing to work," says Lenar.
As the labor manager, Lenar works in the field spending most of his time making phone calls from his company truck. He calls the crew leaders every day to know when they will be finished at their current jobsite, so he can direct them to where they are needed next.
After monitoring the crews' progress during the day, he spends part of the evening determining where each crew needs to be for the next day. Since the company frames about 3,000 homes during the year with many active jobsites at any given time, the coordination task can be daunting. He finds putting effort into having friendly relationships with the crew leaders is helpful for getting the work done.
"It makes me happy and proud to see the guys working to make a better life for their families," says Lenar of his work crews. "I want to help the guys build better and be safe."
Lenar has some advice for young people who are considering framing as a career; "It takes about 4 months to acquire the knowledge you need. You don't understand it at first, but you will learn it. Have a clean work site and show up and you will make money. Have pride in your workmanship. You have to be able to work in the heat and the cold," said Lenar.
The framing industry is facing one of its toughest challenges to date: "The industry is short on labor. After the housing market stalled in 2006, people went back to their countries of origin. They couldn't get papers to come back to work," said Lenar.
Lenar has four children and his son, Samuel, joined the Marines 3 years ago. Lenar said; "I am so proud of my son now." Samuel is stationed at Camp Pendleton in Southern California. He will be home this year for Thanksgiving.
Lenar Umanzar was featured in our ThankAFramer video