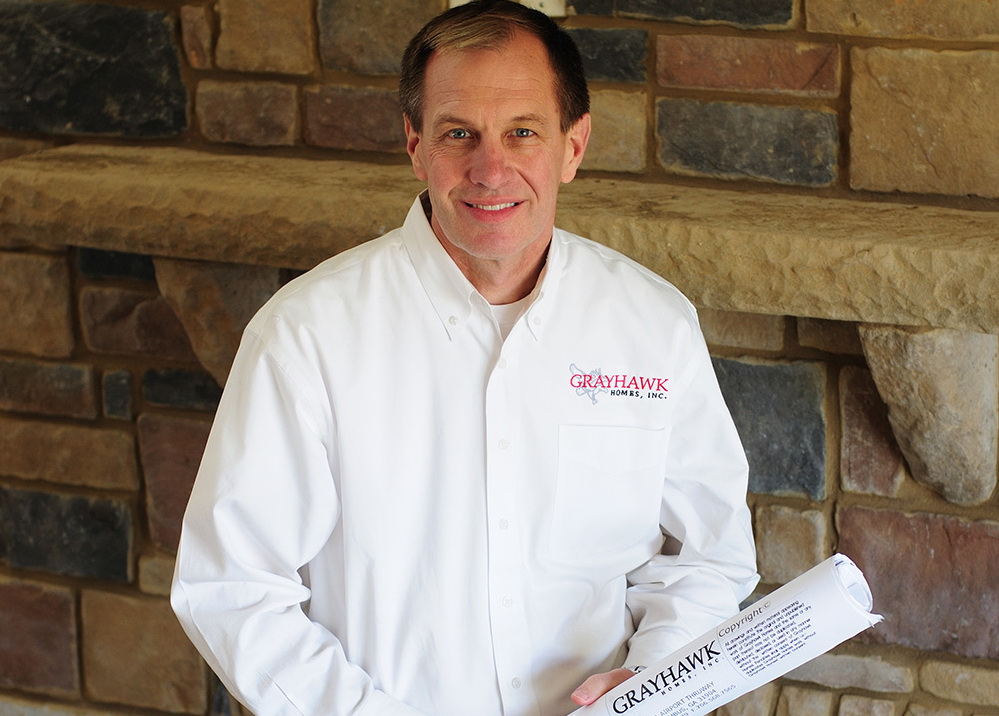 Quality and energy efficiency are synonymous with Grayhawk Homes Inc. Based in the Fort Benning area, this plucky construction company is blazing a trail in a tough home market
where competition is fierce. Want to know founder Dave Erickson's secret to success? A return to the good old fashioned principles of value for money, good workmanship, genuine care for home owners as well as a healthy respect for the environment. With two "Builder of the Year" awards, an EPA ENERGY STAR award and recognition as the number one Energy Efficient Builder in Western Georgia from Georgia Power every year since 1996, it's an ethos that is paying off.
Quality Workmanship
"You can build a car with Mercedes parts, but if you don't put it together with the same attention to detail as the manufacturer, it's not a Mercedes, it's just a car built out of Mercedes parts," explains Dave. All of Grayhawk's homes are built to exacting ENERGY STAR standards. This means that they have an energy efficiency that saves their owners thousands of dollars annually.
Dave's team have the expertise and experience to guarantee that a Grayhawk home is the best option when it comes to energy efficiency. In fact, all Grayhawk homes are backed by a 2-10 warranty from Quality Builder Warranty that ensures homeowner satisfaction. "We work really hard to make sure that the house is 100% percent finished before we hand it over. We do a detailed orientation with our homeowners on completion and then we follow up with them 30 days after they move in and again 11 months later to ensure that we have done our job on proper workmanship and function," says Dave.
Energy Efficient Homes
Creating an efficient building envelope requires a number of factors to work in harmony. First the components must be efficient at keeping summer cooling in and winter cold out, but homes must also be expertly constructed in order to ensure that there are no gaps in the building envelope.
"Many home owners average savings of over $200 per month. This means savings of nearly $72,000 over the term of their mortgage. It also means they can buy a house priced $35,000 higher or add $35,000 in finish choices and end up with the same ownership costs because of the ENERGY STAR savings," says Dave.
The energy savings can be attributed to a combination of building materials and quality workmanship. Some of the materials utilized to ensure energy efficient building envelopes include Norbord's radiant barrier roof sheathing called Solarbord. "The Solarbord helps to reduce the energy that's coming into the home in the first place," says Dave. They also use a super Low-E window from Ply Gem, an insulated wall from DOW insulated panels and fiberglass batts that results in an R-16 wall rating. Combined with good quality fit and finish, the efficiency of the building envelope is secured and Grayhawk homes regularly attain between 68 and 70 ENERGY STAR HERS ratings.
"We are proud to have Norbord as a partner in our efforts to build energy efficient homes. Energy efficiency takes a number of professionals from various industries working together on a common goal and we are happy to be working with Norbord as one of our partners to create energy efficient homes that are high quality and cost effective."
For Dave, the next big step in energy efficiency will be the construction of net-zero homes; "The next big push is going to be net-zero energy homes, but right now, that is a hard thing for us to embrace due to the high construction costs. While costs are prohibitive now, in ten years' time that will be the most common energy efficiency standard."
"Grayhawk Homes is centered on a couple of basic principles; we build a high quality house, we customize our plans for each customer and we offer a really great price. It's this combination of things which really makes us successful," says Dave. This focus on core values means personalized care for customers, a respect for the environment that ensures that their homes are energy efficient and taking care of the communities that support them.
To this end, Grayhawk Homes supports St. Jude Children's Hospital and their cancer research through the St. Jude Dream Home Giveaway program. This year Grayhawk Homes and St. Jude will be giving away another $300,000 ENERGY STAR certified house through a raffle sponsored by St. Jude. For a $100 ticket go to www.stjude.org/dhcolumbusga. You could win great ENERGY STAR home and support St. Jude Children's hospital at the same time.