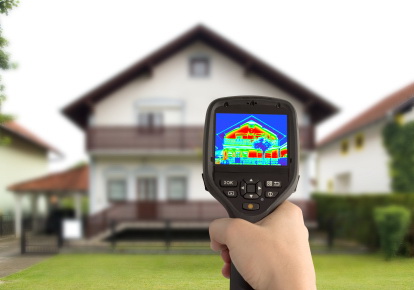 An energy audit is a series of tests run to determine the efficiency with which your building utilizes energy. Whether you are planning a renovation to reduce energy consumption, or 
have just completed a new build, energy audits establish the efficacy of your building envelope.
Buildings which use energy effectively require a combination of elements working in harmony as well as attention to the details which ensure that there are no gaps or spaces in wall sheathing or around openings that will compromise the building envelope. Conducting an energy audit will help to identify gaps in the building envelope. In some areas or green building programs, conducting an energy audit is mandatory to meet code or a pre-requisite to claiming government rebates. There are a number of different aspects to an energy audit:
Blower Door Test:  A door is sealed with plastic and a large fan in an expandable frame is slotted into the door jamb so that the air can be pumped from the building. The fan draws out air until the internal building pressure reads 50 Pascal on a manometer. The test produces two readings; airflow at a pressure difference of 50 Pascal (cfm50) or air changes per hour at a pressure difference of 50 Pascal (ach50). The energy audit inspector can conduct a smoke test to find gaps where air is either escaping from, or entering into the building envelope. On new builds, conducting a blower door test before the dry wall is hung allows corrective changes to be made easily. Some jurisdictions may require this to be done at a later stage of construction.
PFT Test: The PFT (Perfluorocarbon tracer gas) technique is an alternate to the blower door test. Since the blower door test cannot register air leakage with changes in atmospheric pressure and wind, the results are restricted to conditions at the time of testing. The PFT technique is far more accurate. Here an emitter releases small amounts of harmless perfluorocarbon gas and the receiver monitors the average concentration of gas in the room which is proportional to the air tightness of the building; the better the building envelope, the higher the concentration of gas.
Insulation: The building's insulation is inspected and measured and the building envelope efficiency is measured.
Appliances: The amount of energy each of the appliances in the home (such as the HVAC system, air handlers, furnaces, kitchen appliances etc.) utilizes is calculated. A duct blaster test will evaluate the efficiency of the HVAC system.
Thermographic Inspections: Infrared cameras, thermal line scanners and spot radiometers are utilized to show where air is escaping from areas not accessible during the smoke test while thermal imaging cameras map heat-loss patterns. Infrared cameras are more accurate when utilized in the interior of the building as heat can travel inside the wall before escaping and, if measured from outside the building, may give an inaccurate account of where leaks originate. These tests are generally conducted at the same time as the blower door tests to improve accuracy. Since wet insulation conducts heat faster than dry insulation, thermograms (pictures showing energy loss) have the added benefit of detecting leaks in roofs. They can also help to identify faulty electrical wiring or excessive friction in mechanical building systems.
Once tested, your new building will be receive a HERS rating. If you are constructing homes, an energy efficient home should aim for a score of around 50 while a net zero home will need a score of 0.
Finding a Qualified Home Energy Auditor
Ask your local building department, HBA or local energy provider if they can provide a list of recognized energy auditors. If you intend to use the audit to claim rebates, it's essential that you use a recognized auditor. You can also contact your local energy provider for a list of energy auditors in your area. You can ensure the accuracy of your energy audit by checking the references of the auditor and calling the Better Business Bureau to ensure no complaints have been filed against your inspector.
Energy Audit Rebates In an effort to help home and building owners to assess their energy consumption, many local governments offer rebates on energy audits. Find the links below.
Canada Rebates for energy assessments or energy audits differ from one province to another. While some provinces have programs in place, others do not. Check the Natural Resources Canada website for links to the rebates in your province.
U.S. Find a comprehensive guide to federal tax credits for energy efficiency on the US Department of Energy site. Knowing where and how your home or build utilizes energy can help you to see what changes need to be made in order for you to save on energy costs. Energy audits help to show where you can get the most savings for your building buck and what improvements will give you the best return on investment.