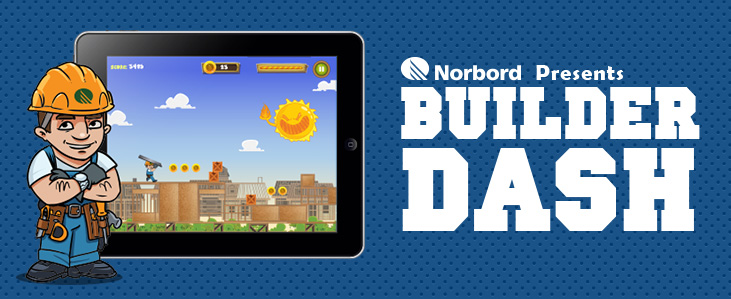 Need a break? Then Norbord has the perfect game for you. Available for iPhone and iPad, Builder Dash is an action-packed game that's more fun than a barrel of monkeys.
Visitors to the recent International Building Show were delighted by Norbord's new game, Builder Dash. The game provides a little light hearted fun that builders or framers can enjoy during their break or over lunch hour. Visitors to the Norbord booth enjoyed playing the game on iPad tablets and the launch was a big hit.
You can play with the same great Norbord products you build with. Jump into the side-scrolling adventure that takes
you through the worksite in order to deliver your OSB. But beware of the bad weather which threatens to slow you down at every turn. Luckily you have a selection of OSB weapons to help you fight inclement weather.
Enemy fire? Builder Dash allows you to vanquish your foes with the right OSB products.
Fireballs thrown by the sun? Those will bounce right off Solarboard.
Caught in the rain? No problem; Stabledge will keep you dry.
Fend off hurricanes with Windstorm, build longer ramps and bridges with TallWall and protect yourself from the weather with the OSB products you know and love.
As you move through the levels, collect coins to unlock hidden Norbord OSB products which will make playing certain levels easier and unlock the final secret OSB which uses a futuristic technology from a galaxy far far away.