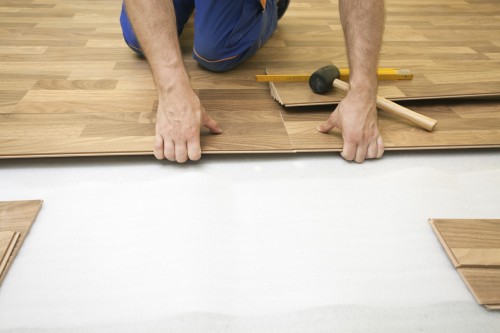 In order to ensure a successful flooring installation, you require a sound sub-floor system. Any mistakes in the sub-floor are likely to telegraph through to the installed floor and result in time consuming and expensive call backs. Inspect the subflooring carefully and be sure to correct any problems before installing finished flooring.
Sub-flooring Moisture Management – Builder
OSB sub-flooring will adjust to new environmental conditions. Whenever possible and before installing any sub-flooring, store sub-flooring panels under cover on the job site to allow the them to acclimate to the current conditions. Always leave the required 1/8-inch gap between 4' ends of sub-flooring panels to allow for expansion with changes in moisture conditions. The National Wood Flooring Assoc (NWFA) requires sub-floor panels to be glued as well as attached with the appropriate fasteners.
Avoid using heavy drywall carts on subflooring, especially when wet. Overloaded dry carts that exceed general load capacities of 400 lbs. (300 lbs. when subflooring is wet) can cause damage.  If the floor is over a crawl space take extra care to ensure the required moisture management systems are in place.
After the home is closed in, and drywall and painting are completed run the HVAC system for at least five days to create occupancy conditions.
To provide the flooring installer with the best possible sub-floor here is a short check list:
Nail spacing (minimum 6"oc on edges and 12"oc in the field).
There should be a fastener ¾" from each panel corner.
Are all metal hangers fastened correctly (if not they may squeak).
Check that all the proper joist stiffeners are installed and fastened correctly (they prevent bounce/deflection issues).
Ensure the sub-floor is clean, dry and flat.
Remember "It's always cheaper to fix issues in the beginning of any process than at the end".
Moisture Management – Flooring Installer
Prior to starting the hardwood installation adjust your moisture meter accordingly and measure the moisture content of OSB sub-flooring by taking at least 20 moisture readings per 1,000 square feet. Compare that to the moisture content of the hardwood and follow the NWFA guidelines for the acceptable percentage difference between sub-floor and hardwood flooring being installed.
In areas where moisture is or may be a concern, consider installing a vapor retarder over OSB sub-flooring panels to minimize moisture transfer and the impact of seasonal humidity changes. Install vapor retarders with a perm rating of 0.7 or more; anything less may trap moisture in the sub-flooring system.
Inspecting the sub-flooring – Flooring Installer
Check that the sub-floor is stable because installing hardwood will not stabilize a floor. Check all the items listed above and fasteners are not under or over driven.  Sand or fill all uneven joints or areas that may cause issues with the finished flooring. Always follow the NWFA guidelines and/or the flooring manufacturer's guidelines for sub-flooring, hardwood flooring and adhesive installation. The finished flooring manufacturer knows the best way to install their product because species, widths and styles all impact installation.