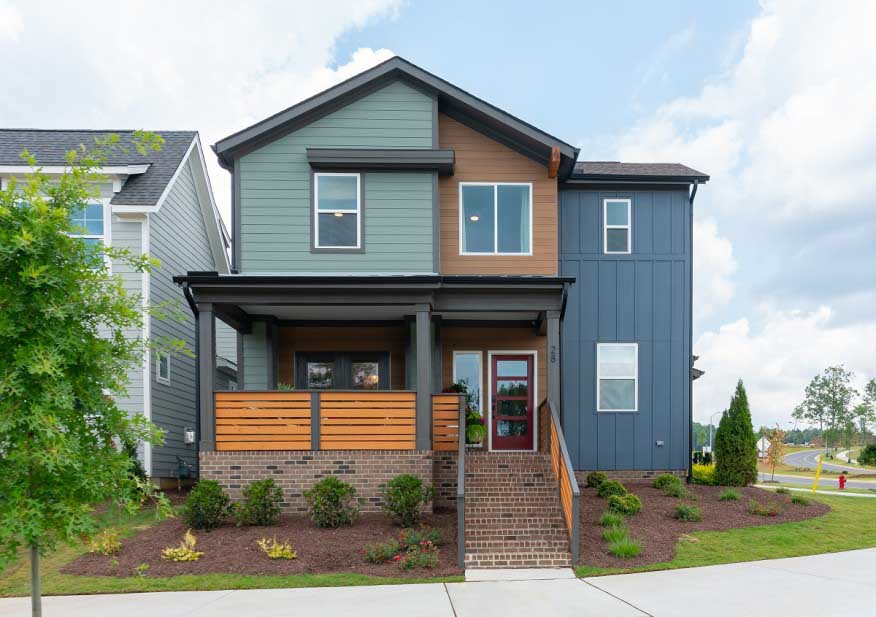 *Photo by Amber Gluckin
During the pandemic Teri Slavik-Tsuyuki of tst ink, Belinda Sward of Strategic Solutions Alliance, and Nancy Keenan, president and CEO of Dahlin Group Architecture Planning conducted a study called Americans at Home to see how COVID would affect the home industry.
Once the results were in, they decided to build a home that reflected the changes in prospective home owner's wish lists. "We realized the only way to truly communicate the connection between the data and design was to do as much as possible in one home," says Keenan.
The home can be found in Pittsboro, North Carolina and it's called 'Barnaby' after Slavik-Tsuyuki's poodle. The two-story home boasts 2,600 square feet, four bedrooms and three and a half bathrooms. With separate entries for home owners and guests, the home is designed for post-pandemic families who work from home. To this end, it has two office spaces, a guest suite, flex spaces, a number of covered outdoor areas, flex storage and drop zones for package deliveries. The guest suite is isolated from the rest of the house to prevent the spread of germs, especially for people who need to quarantine.
The study found that 52% of respondents were willing to pay more for better kitchens. Barnaby's kitchen has a walk-in pantry, a gas range and many other top features. Unique to this post-pandemic house is a kitchen island designed to double as a homework station and an area for kids to participate in meal preparation. Touch-free appliances and a germ-resistant quarts backsplash help prevent the spread of disease.
About 58% of millennial and 51% of Gen X participants wanted a "better home office or studio" as many people work remotely, at least part of the work week.
The family bathroom has segregated spaces so that more than one family member can use the facility at the same time, while keeping the master bathroom free for parents. "I would say the family bath was probably the most unique result," says Keenan. "We started talking about what it's really like in a house with a bunch of kids and how the master bath has always gotten all the attention. We really need something that functions better for families who are washing children."
"The pandemic and stay-at-home order taught us that we can turn closets into home gyms, garages into movie theaters, and we can build a secret room where we can go in and cry if we want," concludes Money-Garman. "We can live inside every space with intention and purpose, and those don't have to match anyone else's intentions and purposes."
Responding quickly to the changing needs of the post-pandemic home buyer can help put your construction company ahead of the curve.