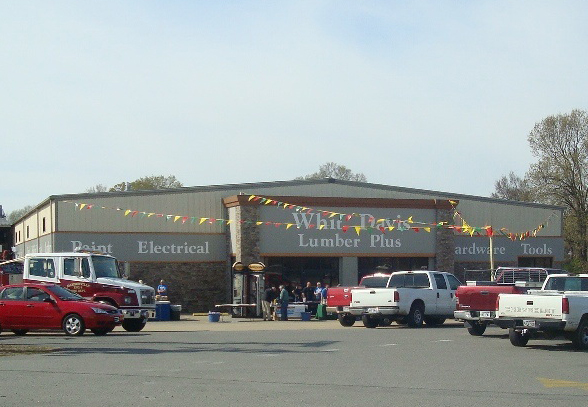 "Whit Davis Lumber Plus…Where the Plus is Service" reads the slogan and it's certainly service that this plucky lumber company is focused on. With locations in Jacksonville, Cabot and
Greenbrier Arkansas, the staff at Whit Davis can provide you with everything you need from framing to finishes. Whit Davis partners with thousands of contractors to supply building materials and services. One of its greatest assets is its employees who collectively bring hundreds of years experience to the table. This month, Whit Davis celebrated its 60th year in the building supply trade.
Whit Davis and his wife, Miriam, bought the lumber company in 1953. They ran it with the help of a driver and their son, John, current CEO. "I was only 11 years old when the business opened in '53," said John Davis. "I started out making 75 cents an hour sweeping floors and waiting on customers and checking on supplies." The end of the school day for John meant the beginning of the work day as he had 15 minutes to get to the store after the final bell rang. "I remember, as a kid, having to work hard. It was 7 a.m. to 6 p.m. six days a week in the summer," said John.
John's two sons, Dan and Paul, currently work out of the Jacksonville location, and his son-in-law, Don Millar, is head of the installation division making this a true family business. "It's probably one of the best places to work because there is such a family atmosphere. You just feel like this company really cares about their employees. It's good to work for someone who understands that family comes first," said Kelly Watson, marketing manager.
Their focus on service started early on and their first company motto was; "We either have it in stock or we will get it for you tomorrow". Their commitment to really helping customers is what sets them apart; "We want our customers to know that they come first. We strive to make our service better than everywhere else which is our secret to success," said Kelly.
Their commitment to service extends to the communities who support them; "There's a lot of involvement in the communities that our stores are located in. Our employees are on a number of committees from the local Chamber of Commerce board to the Rotary Club. We always try to give back to the community when we can with donations and support," says Kelly.
As this month's anniversary celebrations draw to a close, Kelly Watson and her team are redoubling their efforts to make their customers feel like part of the family. With plans afoot for a new location, Whit Davis Lumber Plus may be around for a couple more generations to come.