West Fraser structural panels are to be installed according to the APA's (The Engineered Wood Association) E30 – Installation Instructions (Engineered Wood Construction Guide), the appropriate building code and/or the design professional's specifications.
Below are some key installation points and tips
Space panels 1/8″ apart on the 4′ edges. Using a 10d nail as a spacing guide is a quick and easy way to ensure proper spacing. (See photo and watch video below.)
Lightly butt the T&G together.
Ensure the joists are aligned, uniform, spaced correctly, level and square before installing any sub-floor.
Install panels with the major strength axis perpendicular to supports.
Install T&G panels with the APA grade stamp down.
Fastener Spacing – consult your local building codes for local requirements, the E30 – Installation Instructions (Engineered Wood Construction Guide) and/or your design professional's specifications.
Fasteners must be within 3/8″ from edges and corners to ensure the panels stay flat to the joists.
If using Rimboard, refer to APA's Floor Panel T&G Trim Guidelines.
Gluing sub-floor panels is recommended and may be required. At a minimum, sub-floor adhesives must meet current industry test standards. If glue is used, apply only enough glue to install 2 or 3 panels at a time and fully fasten the panels before continuing.
Running a small bead of glue in the groove of the panels during installation adds strength and stiffness to the floor.
Provide 3/4″ expansion joints for every continuous section of panels exceeding 80 feet in length. See APA U425 for details.
---
Try our free online tool, Onsite. Great while on the jobsite or training new employees, Onsite has lots of videos and information, plus it focuses on the 3 most common mistakes made when installing OSB. There are videos for Sub-Floor, Wall and Roof applications plus a Trouble Shooting section. The online tool is a guide only. Always consult the local building codes, design professional's specifications or the APA's E30 for details that may apply to your application.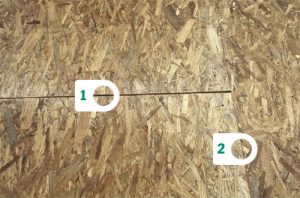 One of the most common mistakes made during the installation of sub-floor structural panels is not leaving a gap along the 4′ ends of the panels by butting the panels together. Not leaving space to allow for expansion can lead to potential problems. Butting panels tightly together can cause callback issues that add cost and impact the bottom line. Stabledge panels are sized to allow for this spacing and leaving 1/8″ between panels is a requirement. Using a 10d nail as a space guide is a quick and easy way to ensure spacing.
These publications by the APA The Engineered Wood Association M300 (Cut Callbacks with Proper Spacing), G440 (Brace Walls with Wood), E305 LA (Construyendo un sistema de piso solido sin chillidos) and TT-024 (Heavily Loaded Drywall Carts) provide excellent information and guidance to anyone using structural panels and should be read in addition to the installation requirements. Downloadable PDF available in APA Publications section.
The following floor coverings may be installed over Stabledge Sub-Flooring
Commercial and residential carpet with under pad
Ceramic tile and lightweight concrete*
Hardwood floors**
Vinyl flooring requires a suitable underlayment***
Always follow the floor covering/installation product manufacturer's application recommendations.
* Follow the industry and flooring manufacturer's installation instructions with special attention to the requirements regarding the job-site moisture conditions for the building, sub-floor and finished flooring before, during and after installation.
**Hardwood flooring should be installed per the NWFA guidelines and/or the flooring manufacturer's instructions. Special attention must be paid to the moisture content of the sub-floor and the flooring and relative humidity at the time of installation.
*** The APA L335M for underlayment installation can be found in the Resources under the APA.
Prevent Buckling with Proper Spacing
Resources
Visit the resources page for more information on product documents, forest certification, APA publications, seminars & trade shows.