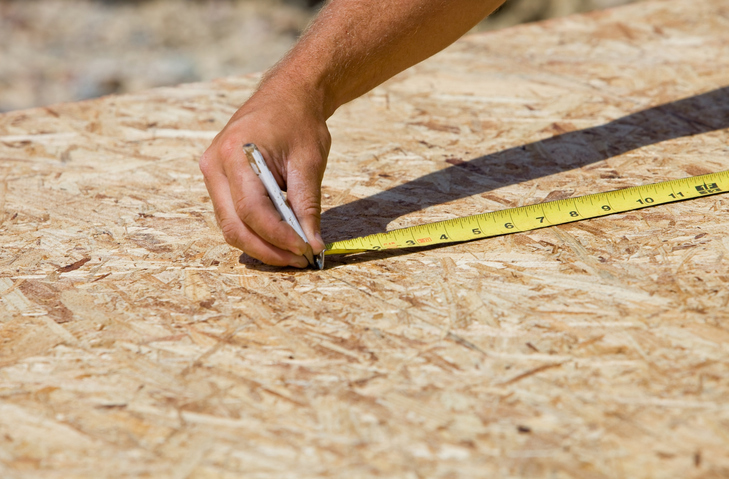 Building codes consider OSB (Oriented Strand Board) and plywood interchangeable and refer to both as "structural wood panels" as both OSB and plywood panels are created when wood is glued and compressed to form a rigid panel. Despite the obvious similarities, there are some essential differences. From a structural standpoint Plywood and OSB panels are considered equitable although their different manufacturing techniques give each board its advantages and disadvantages.
OSB wood panels
When OSB panels are created, thin wood strands are combined with adhesive and then hot-pressed into sheets. OSB's strength comes from the fact that strands of wood are aligned in each layer and that each layer is perpendicular to the one below (they mimic plywood in this perpendicular layering). There are approximately 50 layers of wood strands in every OSB panel. While the two kinds of panels carry the same span rating (because they are based on strength and not thickness), nail pull and screw hold, OSB panels have several structural advantages over plywood panels:
OSB can be manufactured into larger panels than plywood and offer more cost saving options for today's builders
OSB panels do not have core voides like plywood panels do
OSB panels are considered greener by some as they are manufactured from smaller, sustainably-grown trees rather than old-growth forests
OSB has a greater shear strength than plywood panels
OSB is less expensive than plywood and, when its utilized for sub-flooring, wall and roof sheathing, the savings to builders are significant
Plywood panels
Plywood panels are created when sheets of veneer are peeled from a log and cross-laminated together with a hot press. Plywood has a few advantages over OSB panels:
When plywood panels are exposed to moisture, they expand but they do dry faster than OSB. Moisture issues for both plywood and OSB can be mitigated with correct storage of panels during construction
Since plywood panels are manufactured from continuous pieces of veneer, they have a smoother  appearance which is better for painting or laminating
While both panels are equitable in strength, weight, span and ability to hold fasteners, OSB's consistent quality from panel to panel and lower cost has made it a popular choice on North American projects with over 80% of residential construction using OSB over plywood.
Proper storage and handling through the distribution channels and construction stages, meeting ventilation and vapor barrier code requirements and the proper spacing of panel edges can virtually eliminate issues caused by moisture. OSB manufacturers have also addressed this issue by coating panel edges. OSB offers more consistent quality than plywood because there are no core voids and OSB will not delaminate. Plywood is also more likely to delaminate when exposed to moisture than OSB.
No matter your inclination, OSB has become the building material of choice for North American professionals. As manufacturing techniques improve, OSB's lower cost and improved performance ensure it will remain the building material of the future.