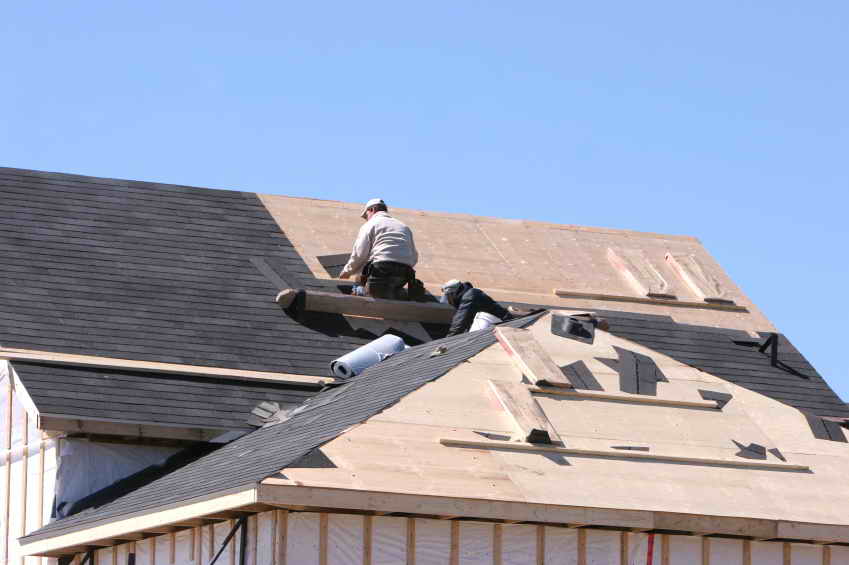 If it's time to replace your roof, cedar roof shingles are an attractive but more expensive option than asphalt shingles. In fact, cedar roof shakes can be six or seven times the price of
asphalt roofing. Asphalt shingles are ubiquitous for a reason; they are inexpensive and easy to maintain, although they do require replacement every 10-20 years. Their tar-like hydrocarbon and crushed stone, sand and gravel composition is naturally water-repellent and they come in a variety of colors and styles to suit your home. Asphalt shingles are relatively easy to install and perform well in harsh climates. If you are considering a shift from cedar shingles to asphalt, there are a number of factors to consider.
Asphalt shingle installation considerations
Cedar roofs will keep the attic up to 15-20 degrees cooler than asphalt shingles. This means that if you are converting to an asphalt roof, your summer cooling costs will increase. One option here is to install radiant barrier sheathing. Radiant barrier sheathing is able to reflect up to 97% of radiation and can keep your attic temperatures up to 30 degrees cooler and you may find that your cooling costs are less than they were with cedar shingles.
Cedar roofs are installed with boards running perpendicular (spacing of those boards depends on the length of the cedar shingle) and the shingles are applied directly to these boards with no plywood or OSB roof sheathing.
When cedar shingles are removed and radiant barrier sheathing is installed over these boards, the efficiency is reduced by the percentage of the foil which comes in contact with the boards. You can overcome this by removing all the boards and installing the sheathing or by removing some of the boards and gaining some benefit from the radiant barrier sheathing. The efficacy of the radiant barrier will depend on the spacing of the boards. Removing some or all of the boards will add to the cost of your roofing. While the roof is open it is a good opportunity to investigate whether installing hurricane clips is possible as those may prove vital in saving your roof if you ever experience a high wind event.
95% of residential roofs in the U.S. are sheathed with structural wood panels. To prevent buckling of the asphalt shingles, the roof sheathing must be correctly installed (see APA guidelines here.) Attics must be effectively ventilated utilizing a combination of eave and ridge vents. In colder climates, an effective vapor retarder must be installed.
Space wood sheathing panels 1/8" apart to allow the panels some room to move when adjusting to humidity levels and to prevent buckling.
Install a proper roofing underlayment and edging to ensure that the roof is completely waterproof. Install the underlayment over dry panels as soon as possible to protect the panels from exposure to the elements.
Install drip flashing flush along the eave and (in colder climates) prevent ice dams by applying an ice barrier such as self-adhesive waterproof underlayment, which sticks to the roof sheathing and seals around nails driven through it. If you live in a zone which experiences inclement weather, your building codes may require applying it 3 to 6 ft. up from the eave (minimum of 2 ft. past the exterior wall). Consult your design professional and building inspector for local code requirements. Ice dams can also be prevented with effective attic ventilation.
Felt or fiberglass underlayment is then installed with an overlap of 2 inches. Always lay upper pieces over those beneath to prevent water or ice from getting in under the layers. Underlayment protects the roof from rain and increase the fire resistance. Refer to manufacturer's instructions for shingle installation.