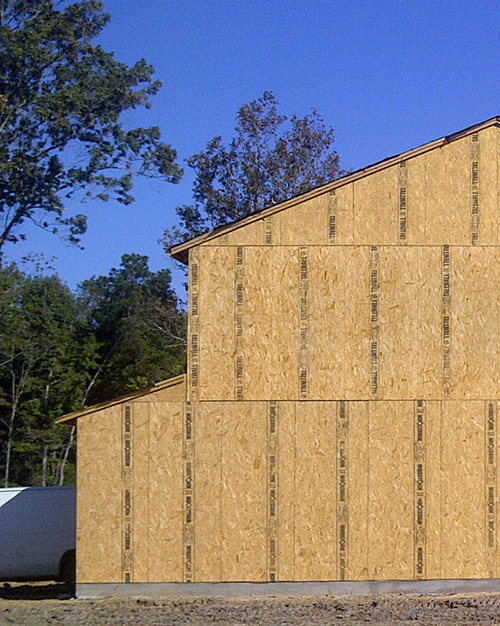 Traditionally, wall sheathing is placed horizontally on the studs with an open joint seam running through the middle of the wall system. Now some innovative wall sheathing manufacturers are creating engineered taller wall sheathing panels that can be installed vertically. This provides a number of advantages for builders including lower labor costs and improved energy envelopes.
Reduce Air Leakage
As cooling and heating bills continue to skyrocket, energy savings are on the mind of every prospective home owner. Taller wall panels of 9' or 10′ installed vertically can reduce air leakage by up to 60%, creating a better energy envelope that helps to reduce consumption and prolongs the life of your furnace.
Claude St. Hilaire of Home Energy Group: "Builders using the Norbord's TallWall OSB wall sheathing will see a significant reduction in air leakage into the home.  By minimizing the sheathing joints, we have seen blower door testing on homes using the TallWall system with fiberglass batt insulation approach the air leakage rates on homes using spray foam insulation."
Saves you Time and Money
Utilizing taller wall sheathing can also save you money and time. You can meet hurricane and wind codes while reducing or completely eliminating metal hardware like hurricane clips and/or straps. Using taller wall sheathing is not limited to high wind markets—they are the perfect lengths no matter where you build.
You can also eliminate blocking material at those horizontal joints with taller wall panels and provide a continuous load path with all joints on framing members. With blocking out of the equation, you save on material, handling, cutting and installation plus you create less waste and fewer mistakes.
The full, open wall cavity allows for faster, easier and better insulation. When taller wall panels are partnered with raised heel trusses, even more insulating benefits are possible. Raised heel trusses enable you to take advantage of the energy codes that allow lower attic insulation R-values when full depth insulation extends to the outside edge of the top plate without compression. Insulation is far more effective when it is full depth at the outside edge of the wall (climate zone 3 requires R38 with typical roof construction but R30 when full depth insulation extends to the outside edge of the top plate).
Remember: "Energy savings start with the framing".