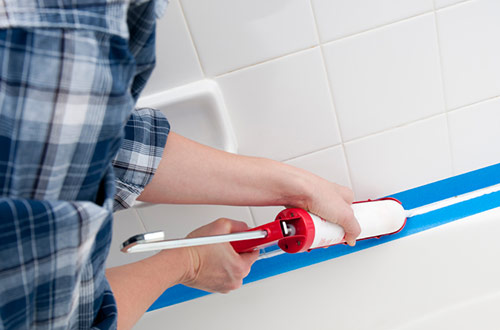 Floors expand and contract with changes in moisture, heat and season. This movement can pull tiles apart creating cracks or push them together so that they pop up or 'tent'. Proper planning and preparation of the subflooring will help to prevent tenting and cracks in tiled bathroom floors.
Subflooring Panel Spacing
Bathroom tiles can be installed over 23/32" OSB subflooring panels. These panels must be supported by 16" o.c. joist spacing. OSB panels are an excellent base for bathroom tiling as they help to provide an even surface to keep your tiled bathroom floor pristine. OSB subflooring panels must always be installed with 1/8" spaces between panels to account for movement caused by expansion and contraction and to prevent tile tenting.
Prior to installing the OSB subflooring, ensure that all the joists are square and level and align the OSB panel's strength axis perpendicular to the joists. This will provide strength and rigidity and minimize tile tenting.
Tiling Tips
Don't couple all the membranes underneath the tile. Leaving membranes uncoupled will allow for expansion and movement.
If your bathroom gets a lot of direct sunlight, use lighter, smaller tiles. Large, darkly colored tiles absorb more heat and this causes more movement. More grouting with smaller tiles also allow for movement without cracking or tenting.
Don't put thinset or grouting around the edges of the tiles where they meet the walls as this will leave space for them to move without compromising the floor.
If you are installing a steam shower, use a special thinset that will allow for rapid thermal expansion.
In large tiled rooms, install expansion strips and use grouts and thinsets that are designed to handle expansion and contraction.
Tile your bathroom last to prevent cracking when tools or construction materials are dropped on the floor. Do not walk on the floor until the mortar and grouting have dried. When installing a tiled bathroom floor, always follow the tiling manufacturer's instructions and the recommendations from the Tile Association.