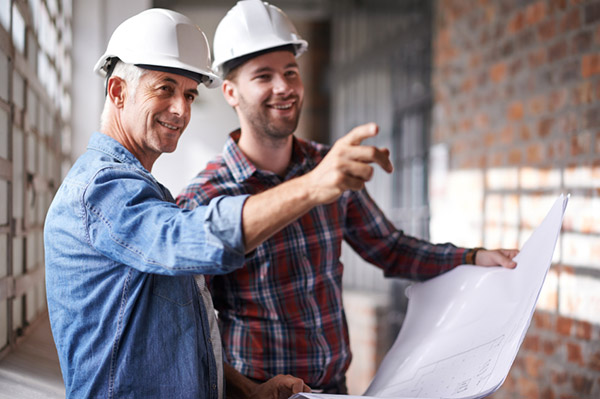 Knowing what to look out for will help you to pass your building inspection with flying colors. Failing an inspection can be costly and time consuming and can eat into already tight profit margins. Here are some of the most common reasons building fall short of code expectations.
Deck Ledgers and Braces
Deck connections are a very common violation. One of the biggest issues are improper connections between the ledger and the house and poor flashing installation. Deck shear-bracing requirements are also often neglected.
Stairways
When horizontal space is limited, some contractors will try to squeeze in stairs and this may result in stair treads that are too narrow or stairs that are pitched too steeply. Codes require a minimum of 6-feet of headroom with 8 inches from the tread to the ceiling with the steepest stair at 7 3/4-inch risers and 10-inch treads.
A common mistake is not to adjust for the thickness of the flooring at the bottom of the staircase, leaving a shorter bottom step that violates code. These riser and tread requirements also apply to the outside of the home, so take care with stairs leading up to the porch or deck. Stairs that don't meet the code can cause accidents and, when someone falls, they can sue contractors even after they have passed inspection.
Handrails and Guardrails
Another potential source of litigation, hand and guardrails must meet code which requires a 34- 38 inches from the tread with a secure connection to the stairs. Blocking can help to ensure a secure connection.
To avoid hooking on clothing and purses, hand and guardrails can't just end, they must end at the post or wall.
Air-Barrier Gaps
Creating a home envelope is essential if your build is going to meet with more stringent energy codes. Creating a continuous thermal envelope will mean getting into spaces that are often hidden like behind fireplaces or HVAC chases and attic knee walls.
Leaving gaps in your home's envelope is a very difficult and costly callback. You must ensure that air-sealing has been done properly during the framing.
Exposed Kraft-Faced Insulation
Kraft-faced insulation cannot be left exposed as these batts will burn in the event of a fire. The paper is coated with bitumen which is highly flammable. Insulation batts must be covered with drywall or whatever sheathing options meet code. This applies wherever you have used insulation batts like knee walls, framing cavities, crawl spaces and attics.
The best way to negate expensive callbacks and code violations is to know your code. Send your team for training and always read the manufacturer's instructions. Have someone do your own inspection and make any corrections before you call for the inspector. Not all building materials are the same, so read the instructions before you begin. A little planning and time before you begin may save you money in the long run.