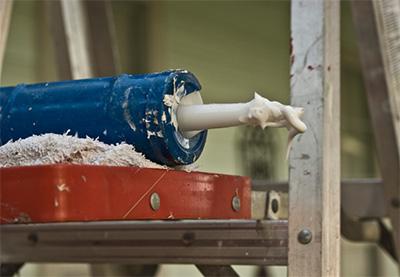 Light switches, light fittings and outlets can be a major source of heat loss in winter and cool air in the summer. A tiny 1/8-inch gap around six ceiling light fixtures adds up to a 2 square-inch hole in your ceiling. Putting gaskets behind switch plates is a good start, but these don't provide a complete seal. Here are some quick fixes to drafty openings.
Using caulk and foam can have your whole house insulated for less than $25. Be sure to ask for 'intumescent' fireblocking caulk as regular caulk may pose a fire hazard.
The other advantage of 'intumescent' fireblocking caulk is that it doesn't drip, so you won't have to put a drop cloth down if you are sealing an overheat light fixture.
You can apply regular foam or caulk to seal the gap around the flush-mounted boxes, behind electrical cover plates. Remove the plate cover, seal with foam and leave to dry. When the foam has set, remove excess with a knife and replace the plate cover.